Five Must Have Technologies For A Smarter Warehouse
With the rise in technology, supply chain operations have gone through a lot of advancements. As warehousing is an important component of all supply chains, we have noticed changes in the ways of carrying out warehousing operations. There is no doubt that better warehouse technology can be of greater help in the proficient management of warehouses. Research firm Gartner states that by 2020, there will be a sharp increment of 66% in the number of warehouses proceeding towards a setup of effective warehouse technology.
Experts recommend usage of warehouse technology which will enhance throughput, reduce product damage, improve inventory control, enhance the visibility of stock location and optimize cost on resources. Effective warehouse technologies also serve as green measures and help in reduction of carbon footprints. Read more to know about various warehouse technologies –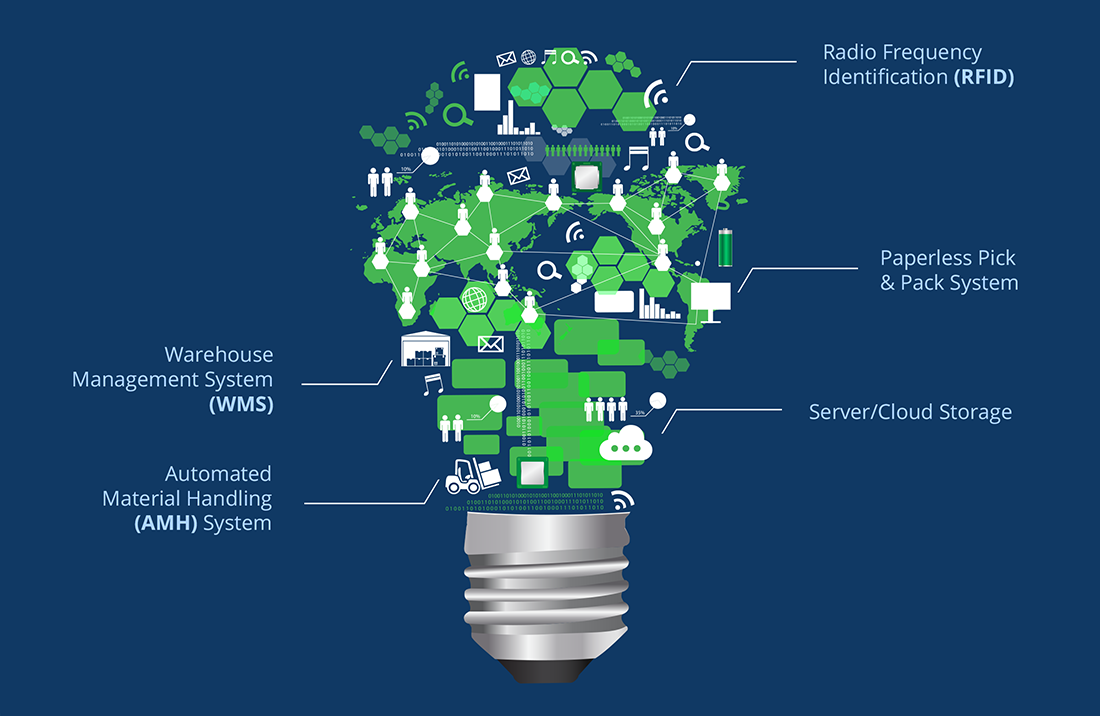 Warehouse Management System(WMS):
WMS assists in managing the warehouse in a much better way. This warehouse technology helps in managing multi-user warehouses. It includes many features like
•    Creation of Goods Received Note (GRN )
•    Managing throughput & dispatch
•    Visibility of data in the form of reports for sales
•    Important add-on of Inventory Management
•    Consideration of all SKUs, their location and cycle count to keep physical & system inventory at par
Automated Material Handling(AMH) System:
AMH is a trending warehouse technology which improves work efficiency & reduces human intervention to a good level. A list of AMH based machines like conveyors, stackers, cranes, forklifts, bins and barcode scanners can reduce the turn-around time and hence, increases customer service level for a long-term business arcade.
Radio Frequency Identification(RFID):
It is an emerging warehouse technology that creates complete visibility of stock. It significantly reduces the risks of losing the items within the warehouse. It is based on the use of electromagnetic field which tags each item like a barcode which is invisible and can be only tracked by radio waves, even from 100m distance. Hence, it helps to build a secure warehouse for stocks, preventing them from theft.
Paperless Pick & Pack System:
Covering the green aspect of warehouse technology, this system decreases the dependence on papers. While picking and packing orders, this android application can be used to pick products, process the order and make it ready for dispatch. Thus, it reduces the need to enlist and mark items on paper.
Server/Cloud Storage:
Keeping records on paper & files is a much tedious task causing wastage of space.  For the same, all warehousing data & reports can be saved digitally on a remote location server or cloud based storage. It enables users to create a backup related to inventory, sales, billing, etc. which can be used for reference at any point in time in future.
Therefore, in the ever-growing market competencies, warehouse technology is a must have so that there is rise in business economy in terms of productivity as well as efficiency. Technology can assist you to eliminate warehouse complexities, avoid inventory damage and loss, create transparency on throughput and dispatches, order processing, manage sales, maintain reports and so on. Sighting the Indian market, usage of warehouse technology is economical, easy to install and cost-effective, Holisol's in-house technology experts assist customers in managing warehouses immaculately by designing solutions which increase the operational efficiency in a cost-effective way.