6 Things never to ignore in your deal with freight forwarding partner

Every supply chain is different, so are its concerns and priorities. It is safe to assume that there may be cases where low-cost shipping is not the top agenda. In the rising competition, businesses need to maintain the balance of low cost with on-time delivery, cargo safety, quick customs clearance, state-of-the-art warehousing etc. Considering the criticality of these parameters and the complexity of freight forwarding operation, it is advisable to find a suitable freight forwarding partner. However, before you get the freight forwarder on your board, make sure they are experts and possess the capabilities which align with your supply chain requirements.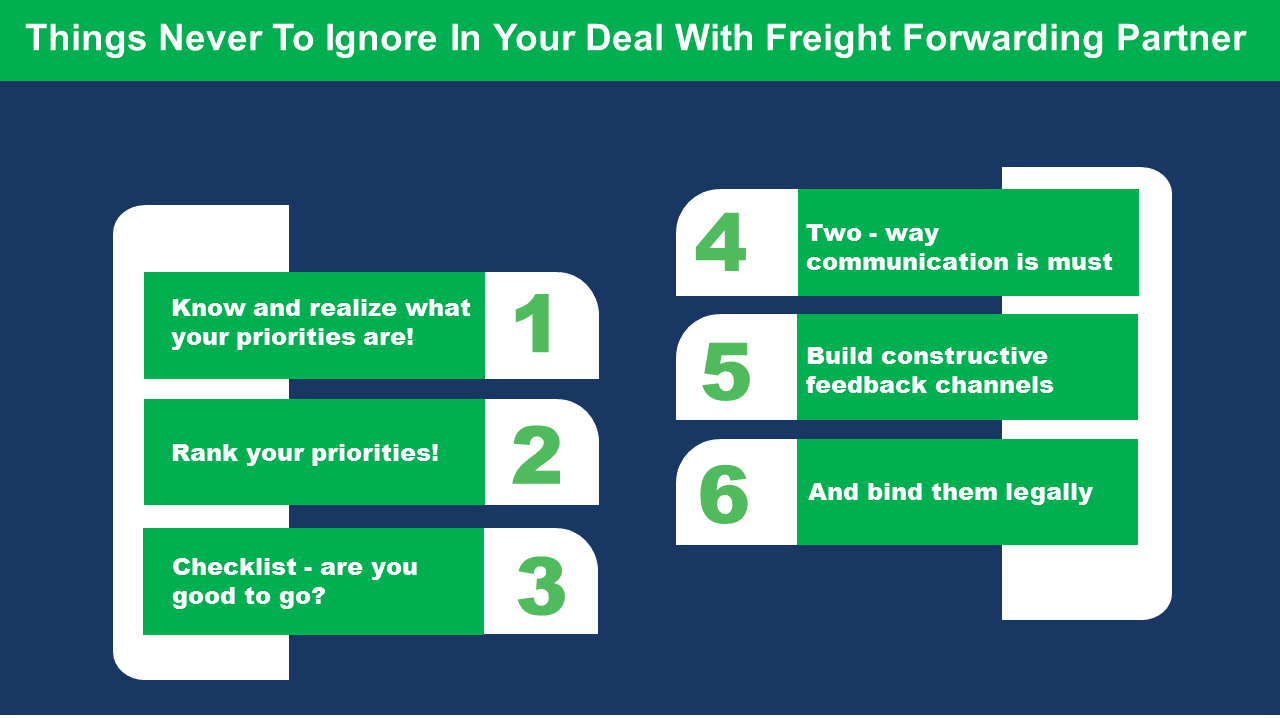 Make sure you are better placed by reading the below strategic points while selecting your freight forwarding partner –
1. Know and realize what your priorities are!
Firstly, understand fully well that your future freight forwarding partner won't be any good for you may if you are unaware of what exactly are your priorities. You need to have a document ready for you which highlights your budget aspects, warehousing requirements, mode of transportation you are going to utilize, packaging aspects and other important criteria too. The moment you know these in and out, you are sure on the right path to align in the best possible way with the freight forwarder.
2. Rank your priorities!
Big businesses must negotiate the 'n' no. of complexities in their supply chains. When the focus wavers from what is at the top of your mind which could be "just in time" delivery to get things in the minimum possible time or it could be your freight budget constraints and so on. Take a call, visualize what can never be compromised so that your results are attuned to success by freight forwarders.
3. Checklist – are you good to go?
A checklist in place at both ends, one with you and other with freight forwarding partner. There is no outside chance any important step might be missed. Regular follow up and putting up a , you are bound to achieve best dividends.
4. Two-way communication is a must
A regional government is putting up some restrictions and banning a country from any transaction or there is an update to incoterm, the new product is to be included for shipping etc. – there could be many such scenarios which would affect your business. It becomes a mandatory requirement to keep the freight forwarding partner in the loop at the earliest which would keep your supply chain in the healthy state.
5. Build constructive feedback channels
At times, the performance of freight forwarder would exceed your expectations, which is good but there might be situations where service levels drop leading to significant impact on your business. You need to have minimum quality standards in place to objectively monitor the performance of service provider. Above all, at any point, don't hesitate to communicate what is there on the report card – good or bad, this would be good in long term relations.
6. And bind them legally
Finally, contract document is good for both parties and ensures not only smooth operations but the easy resolution of disputes, in case, they arise. Legal documents also have the power to make sure what is written over there gets done on the field.
Freight forwarders have a huge responsibility to make your supply chain as successful as it should be. Best results would be possible when you choose them right with a clear understanding of what exactly you require. Following the above 6 rules would keep you on track when you choose your freight forwarding agent.
Holisol is a leading supply chain organization providing solutions in retail (end-to-end fulfillment), Auto & Engineering (packaging & supply chain) and Consulting. Holisol works on the value proposition of Design-Implement-Manage to offer customers an experience of working like their own extended team, with affordable strategic and operational expertise.
Holisol has a workforce of +300 supply chain enthusiasts who are continuously building value through leadership, innovation and relationships. For more information visits us at www.holisollogistics.com or email us at communication@holisollogistics.com