End-to-End Value Chain Systems to digitalise your supply chain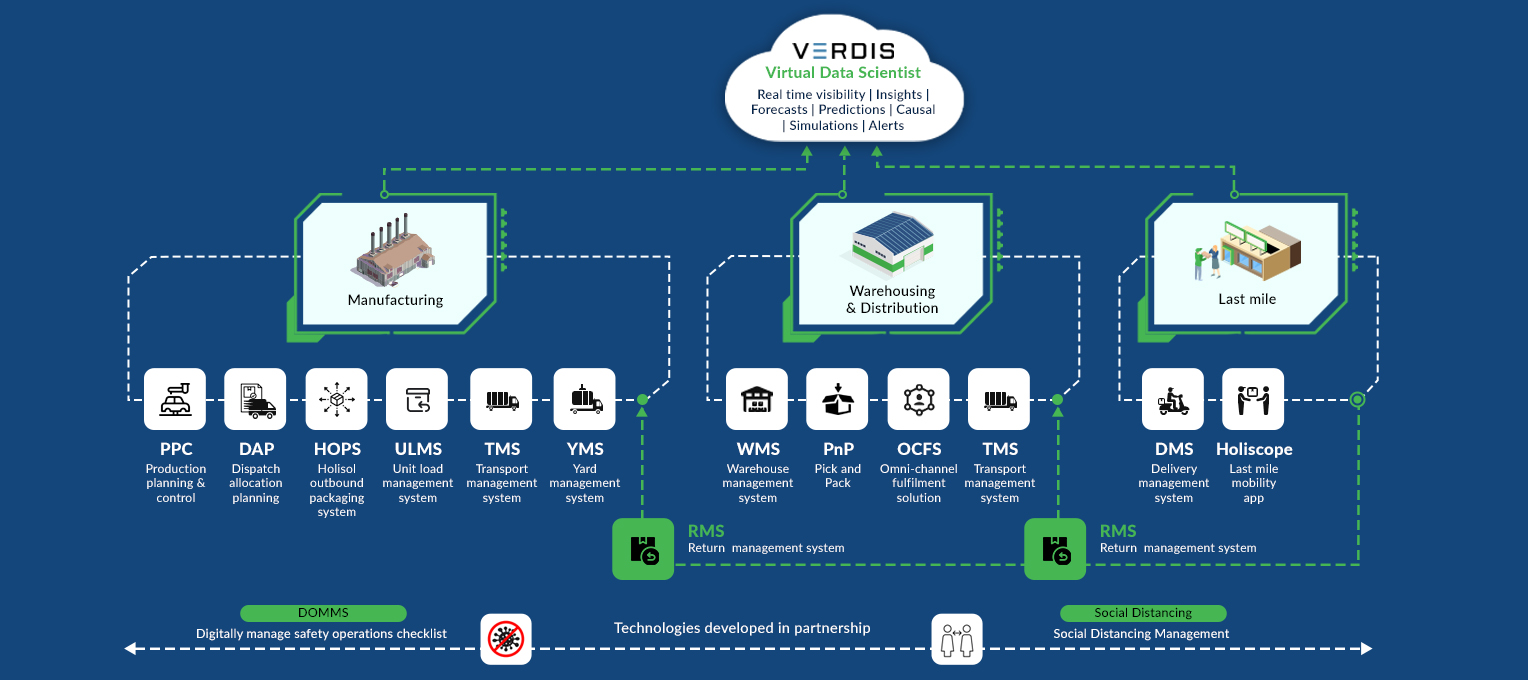 Our IT Solutions for your Business 
Holisol has designed and developed a suite of IT products to transform your supply chain into an efficient and seamless supply chain by digitalizing your processes and making it smarter by using IoT, mobility, cloud computing, artificial intelligence & machine learning. Our solutions bring complete real time visibility in  digitalizing  your 

End to End Supply Chain

to enable you to take data driven business decisions.
Our solutions incorporate  industries best practices learned over the years by managing supply chain for companies across verticals. We continuously innovate our solutions to cater to your dynamic business requirements to stay ahead in the competition.

VERDIS
Virtual Data Scientist is an AI powered supply chain analytics software which empowers you to take decision proactively based on the diverse data across your supply chain. Verdis makes your supply chain responsive and enables you to have a real-time control on your supply chain.

WMS
Our years of experience with supply chain management enables us to understand the complexities of warehousing operations better than anyone else. We have designed a product which manages multichannel fulfilment operations with ease.

TMS
Holisol's Transport Management System (TMS) has been designed based on our decades of experience of managing our customer's transportation needs. We help transportation managers to solve their day to day tactical issues, as well as to make strategic decisions.

ULMS
Customers have realised the importance of using reusable packaging to ship parts from suppliers to OEMs and Dealer. ULMS is a web and app-based solution which uses RFID technology to track and manage your packaging assets/Bins & racks for better inventory management.

HOPS
HOPS is a web and mobile based solution to automate end to end processes for outbound supply chain of manufacturing companies. HOPS Streamlines the packaging process of CKD , SKD and CBU operations by tagging every component, box, bundle & container and tracks all processes by scanning at each milestone of supply chain.

HOLISCOPE
Holiscope is a mobile-based last mile delivery solution to empower your delivery team as well as customers to track, trace and visualize the orders in real time. Holiscope helps you manage your deliveries better while making it a pleasant experience for your customers.

DMS
DMS, a Saas & Enterprise based solution for efficient management of the delivery of shipments from source to the destination. The system manages the complete life-cycle of B2B and B2C deliveries.

SMART MANUFACTURING
The fragmented view of the shop floor performance, machine health, the missing end to end traceability, inability to study the impact of speed, process variables on quality and managing changing demands of the customer are some of the challenges being faced by a manufacturer.
Holisol Operations Excellence Systems 
Holisol has developed an ecosystem of IT solutions to enhance operational excellence in tactical and business operations. Our web, mobile and cloud based solutions help organizations to plan processes and daily operations better and measure the associated business metrics, empowering your employees to excel in their respective domains.

DOPEX
Experience the comfort of automation in the allocation, management and measurement of daily tasks with Dopex. Dopex enables leadership to save time in follow-ups, achieve higher level of productivity and build excellence in daily operations.

D-TALENT
"Performance Management Solution" developed to automate the methodical approach measuring your co-workers' performance. D Talent enables continuous monitoring, measurement and lets you share feedback to promote fair Performance Appraisal.