Warehouse Management System
Our years of experience with both new and old age supply chain enables us to understand the complexities of warehousing operations better than anyone else and have designed a product which manages multichannel fulfilment operations with ease.
We offer standard, professional and enterprise versions of WMS, so that you pay only for the functionalities which you need. Efficiently manage your day-to-day warehouse operations with Holisol Warehouse management system.
The tool enables a warehouse manager to swiftly cater to multiple clients by efficiently recording the overall inventory & its movement. Our WMS solution works in multi customer, multi-location, multi warehouse scenario to seamlessly manage multi-channel fulfilment for you and provide you the solution which best fits your requirement.
We understand your challenges and bring in industry best practices with our WMS to ensure you are in full control of inventory.
Your challenges 
Inventory Mismatch
Improper stock allocation
Handling stock of multiple clients
Delayed order processing & dispatch
Generation and management of MIS reports
Impact on Business 
Lack of visibility of warehouse inventory
Improper allocation of large inventory
Inefficient handling of bulk orders
Loss of different turn around times
Loss & theft of inventory
Mismanagement of stock of multiple clients & at multiple locations
Unstructured data impacts the business insights
Proposition- WMS  
Offer complete visibility of inventory
Improves accuracy in order management
Develop ease in managing bulk orders & efficient cycle count
Smoothly transfer the stock from one warehouse to another.
Optimized management of return order
Full visibility of payments for both online & offline orders
Customized online MIS reports
Functionalities – Warehouse Management System
– Ability to manage 5 users functionality
– Each user access is basis the rights allocated to the user
– Web based system which is customizable and configurable
for Barcode, QR Code and RFID
– API Integration with packaging & delivery management system
Benefits – Warehouse Management System
– User Friendly System
– Seamless flow of information
– Unified system for all the stakeholders
– Seamless integration allows smooth flow of information to
different users of WMS across the globe.
User Management 
Different modules for 3PL, Warehouse managers, Stock owners, i.e. sellers & Ecom Service Providers
Restricted access, user can access only his module.
Customized dashboard for each user.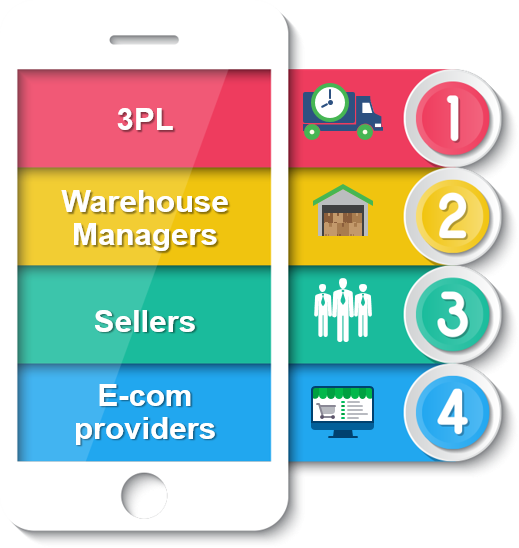 Caters stocks from all sellers and manages all warehouses & delivery
Manages his/her warehouse assigned locations
Sends stock at desired warehouses to be sold through E-com players
Fulfills orders from consumer through these warehouses, managed by 3PL