Today's global supply chains have become tremendously complex and are influenced by so many uncertainties that we believe that it is humanly impossible to visualize and analyze their impact on supply chains.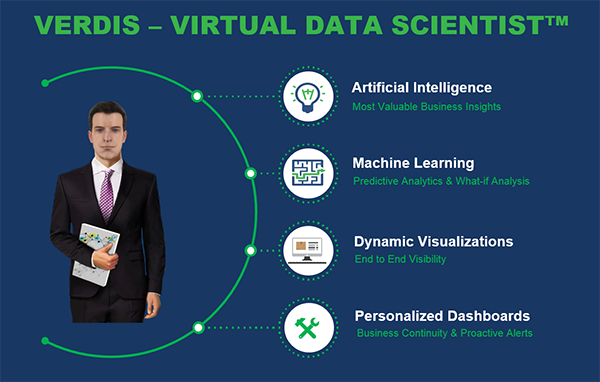 Verdis – Virtual Data Scientist is an AI powered supply chain data analytics software which empowers you to take decision proactively based on the diverse data across your supply chain. Verdis makes your supply chain responsive and enables you to have a real-time control on your supply chain.
Supply Chain Management is essentially a balancing act of consistently reducing cost, inventory & lead time while maintaining or further improving customer service levels. But if you can't measure it, you can't improve it.
Verdis a predictive analytics tool brings you and all your suppliers, service providers & carriers on one cloud platform to give you real time end to end supply chain visibility on a single screen. You can examine health of your complete supply chain with a few clicks and drill down into any of the components that are not functioning well.
Simulate & forecast all KPIs (inventory, lead time, cost and more) of your supply chain and take decisions that are truly data driven. Role based alerts help you monitor proactively and 'manage by exception'.
Verdis works 24*7 to unveil supply chain insights that can be immensely valuable for your business!
Write to our Solution Manager at itsolutions@holisolindia.com to know more about Verdis