Unit Load Management System
Customers have realised the importance of using reusable packaging to ship parts from suppliers to OEMs and Dealer. ULMS is a web and app-based asset management software which uses RFID tracking system to manage your packaging assets/Bins & racks for better asset management system.
The benefits of re-usable packaging comes with a challenge to monitor, track and manage huge movement of packaging assets between multiple point. ULMS uses RFID technology to tag the unit load assets like bins, racks and trolleys and creates higher visibility at each milestone of supply chain. It also captures and organises all the essential data at one place which enables you to make informed business decisions.
Your challenges
Lower visibility in the complete supply chain
Lack of Analytics
MIS reporting
Inability to calculate cycle time for the unit load assets.
Inefficient asset utilization.
Impact on Business
Loss or theft of bins
Difficult to track orders
Delay in relay of information
Last minute escalations
Unstructured data affects decision making
Costing errors
Proposition – ULMS
Tagging of bins & assets for better management of loads
Enables you to track and trace the location of the bins
Faster relay of information increasing visibility in the supply chain
Improved analytics for better decision making
Functionalities – Asset Management System
– Complete order management
– Tagging & tracking of the bins
– Interactive & Intelligent dashboard
– Asset Inventory management & reconciliation
– Web and mobile app based solution
– SaaS based technology
Benefits – Asset Management System 
– Customizable basis your requirement
– Configurable for Barcode, QR Code & RFID Tracking System
– Efficiency in inventory management of bins
– Seamless flow of information across different users of the application
– Customised online MIS reporting
– Higher visibility in the supply chain
User Management
Different modules for component supplier, 3PL & OEM
Restricted access, user can access only his module.
Customized dashboard for each user.
Efficient communication between different users of the app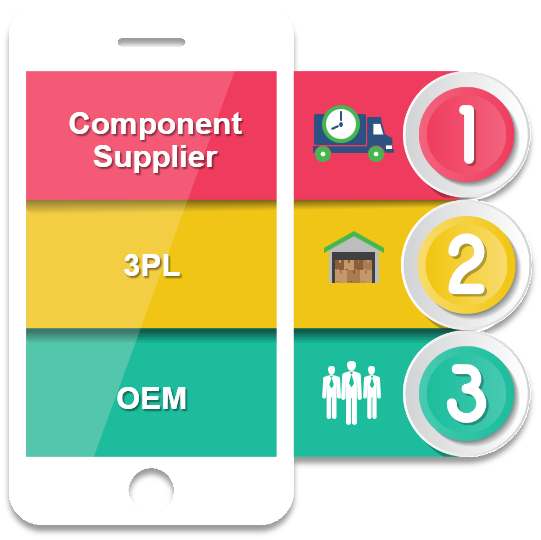 Rents reusable packaging assets & dispatches components to OEMs
Owns, manages & repair packaging assets
End user – receives components packed in the packaging assets