How 3PL Providers Can Enhance Your Warehousing Experience?
Warehousing is the vital link in any supply chain and leads to perfect order fulfillment if designed and managed professionally. Multiple processes such as receiving, storage, value added services, cross docking, just in time inventory, shipping and cold chain activities are performed under a warehouse. When building and managing a warehouse; businesses always encounter questions hovering around storage structure, inventory management, resource planning and so on.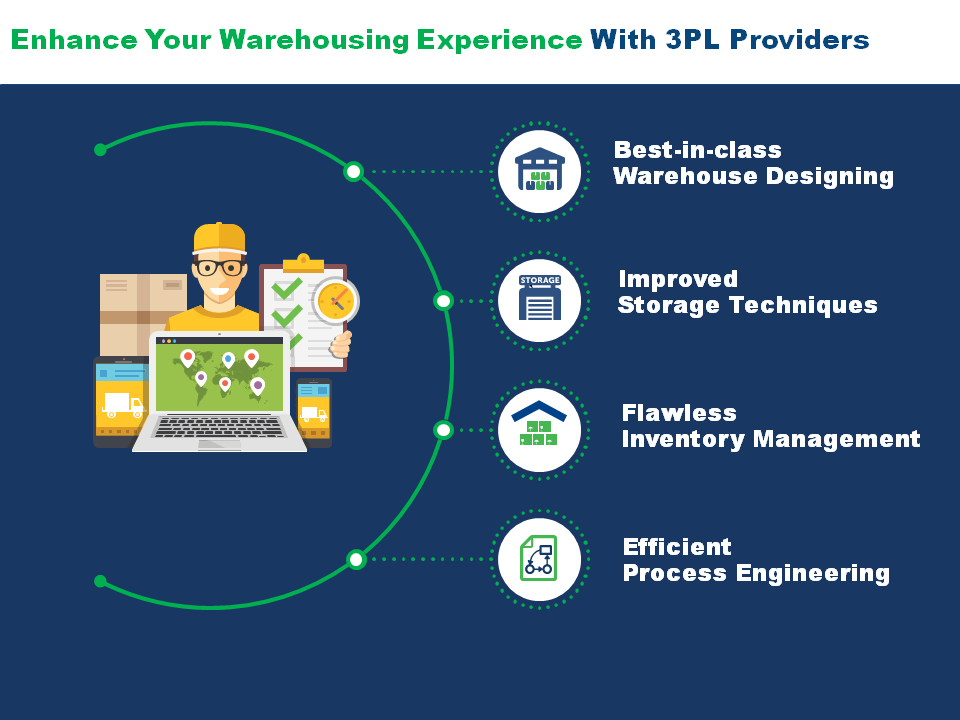 Proper solutions to these concerns make your warehousing operation delightful, which leads to better, organized processes, and consequently enhance productivity. Established and experienced 3PL service providers know their warehousing network in and out and are fully capable of fulfilling warehousing needs irrespective of product and operation type. Whether your products need racking or surface storage, palletized or non-palletized, need value added services or not, need MHEs or not, warehouses managed by 3PL providers are the perfect storage and distribution destination for your products.
Read on to and know what 3PL providers can do to your warehousing operations.
Holistically designed warehouses/fulfillment centers
Warehousing is one of the largest investments by any business and should be well aligned with supply chain strategies for required outcomes. Unaligned warehouses lead to inefficient order fulfillment rate, even if the operational processes are carried out in the specified manner. Warehouse consists of civil and process layout, warehouse shed, racking system, the number of docks and entries, IT infrastructure and other facilities. Smart businesses know that alignment with 3PL providers will cut down their warehousing cost and they can use well-built fulfillment centers with all the latest facilities to store their valuable inventory at economic monthly rent. Whether you are following FIFO, LIFO, FMFO or push or pull supply chain model, warehouses designed by 3PL perfectly align with your supply chain strategies.
Holistically defined storage method
Every product is unique and needs to be stored properly for efficient picking and order fulfillment. This is the basic rule of warehousing to store heavy, light, fragile, perishable and temperature controlled cargo separately along with utilization of maximum warehouse space. Storage methods should be in a way to make your warehouse operations most efficient and save storage cost, picking time and reduce the possibility of wrong shipping. 3PL providers provide customized services from heavy shelving to light racking, pallet storage to piece storage and using best storage method to store the product.
Holistically managed inventory
Inventory is the largest asset of any business and needs foremost attention. Optimized inventory level gives confidence for perfect order fulfillment keeping inventory cost and risk lowest. Proficient inventory management requires special skill set to define inventory norms, optimize inventory level, replenishment cycle, safety stock level and inventory accuracy level. Even the experienced supply chain managers experience challenges in managing optimized inventory level and are aware that 3PL providers have right knowledge and skill set to solve their inventory challenges.
Holistically implemented processes
Standardized and simple processes are main components of an efficient warehouse. For perfect order fulfillment, inbound and outbound processes should be well defined and implemented. Undefined and complicated processes lead to unfulfilled orders, missed TAT, mismatched inventory levels and less warehouse efficiency. Outsourcing your warehousing to expert 3PL partner resolves all your operational challenges. For consistent results and desired outcomes, 3PL providers always define standard operation procedures considering your supply chain operation and make sure that SOPs are being followed to get required throughput.
Warehouse is the storage and distribution hub of any business and all the operations performed under the warehouse should be error-free. Right from setting it up to running daily operations, warehousing brings multiple challenges to the business. Along with challenges, it can also be uneconomical for individual businesses to build and manage warehouses on their own. To manage these concerns, 3PL providers like Holisol have come up with a solution to outsourcing the warehousing operation and providing an economic solution to businesses to expand their reach and increase the customer satisfaction level.
For more than 7 years in India, Holisol has been designing, implementing and managing supply chain operations of multiple online as well as offline businesses. Whether requirements are related to supply chain consulting, warehousing, distribution and transportation; Holisol brings experience, expertise, relationships and innovation on the table, while taking leadership to manage logistics operations as you focus on 'sourcing and selling'. For more information email us at  communication@holisollogistics.com