How 3PL Providers Enhance Your Order Fulfilment Process?
The answer to one very important question – How efficient is your order fulfilment process, will determine how quickly your business will make name for itself and flourish as desired. Order fulfilment process simply constitutes receiving the goods, storing them at a conveniently located position, packing and dispatching them against orders. The key thing is whether all this happens within the expected TAT (Turnaround time) since it will contribute majorly to success across supply chains of different industries. Once you fail to stay on par with the standardised processes, failure is bound to happen.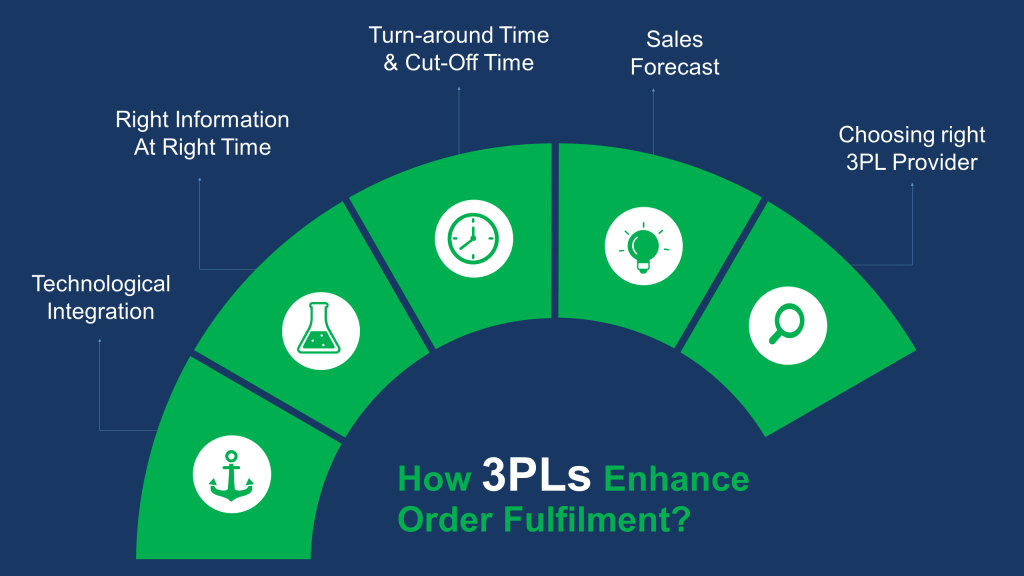 That's why it is advised to make sure there are defined SOPs to sustain order fulfilment process. For any business, looking at the minute components of order fulfilment process like kitting, packaging, sending for dispatch and so on can be a resource consuming activity. Even then there would be a scope for process improvement. Best alternate for any business would be to outsource this activity to 3PLs as they possess the required expertise and they have the experience of deep diving into any process and making sure that order fulfilment process happens as expected.
How 3PLs go the extra mile and what you should make sure gets communicated to them? Read to know more
Turnaround Time (TAT) and Cut-off Time –
Knowing TAT and cut-off schedule is necessary for you as well as your 3PL as this will ensure committed deliveries, ultimately leading to higher order fulfilment rate. Another important aspect which can never be ignored is related to undefined timelines for delivery or shipping as this will lead to delays which would be difficult to overcome. Proactive 3PL providers have a mature understanding of this fact and they always ensure that desired TATs are met with.
Communication of Right Information at the Right Time –
As the product moves along the supply chain, information flows along with it. Lack of information flow leads to incomplete order, higher transit time, higher shipping costs and lesser profits per order. Higher order fulfilment depends on how quickly the information is conveyed to 3PL. Based on that 3PL chalks out the plan related to packaging requirements, dispatch plan and so on.
Technological Integration-
Technically sound systems are required for on demand tracking, ascertaining real time inventory level, shipping schedules and order status to keep the processes up and running. IT systems also keep bombarding automated reports which ease the communication and resolve issues due to delay in production, insufficient raw material, weather, vessel rerouting etc. For perfect order fulfilment rate, it is important to keep your systems in sync with 3PL providers' IT tools. Lack of integration of IT systems is a major factor for loss in efficiency even when you have top quality systems in place.
Forecast of Sales-
When the order volumes rise to a huge level, perfect order fulfilment becomes tough to achieve in the absence of sales forecast. Easier said than done, the sales forecast is a function of many factors like – offers, discounts, weather conditions and buying trends; these unpredictable factors also affect order fulfilment rate. Important is to have sales forecast ready for any time in future and get it communicated to 3PL providers which make them proactive with their processes so that desired results are achieved.
Clarity on Future Requirements and Selection of one 3PL –
Business needs are variable, so it is paramount to have that much-needed clarity with 3PL and contracts must be drafted accordingly. Additionally, there may be a tendency of opting for multiple service providers which can be an economical way out. But an end to end control and visibility is a must-have for perfect order fulfilment rate. For having better control and visibility in the order fulfilment process, choosing one 3PL service provider is always a wise choice.
3pl providers possess the potential to make your business achieve perfect order fulfilment rate, but your contribution in achieving desired success is equally important. A balanced relationship and perfect communication is a must for quality in the operations which helps in achieving the desired level of customer satisfaction. Above guidelines make sure your 3pl providers are always aware of the business needs and they combine their experience, knowledge and skills to take you far ahead of the competition.
About Holisol:
Holisol is a leading supply chain organization providing solutions in retail (end-to-end fulfilment), Auto & Engineering (packaging & supply chain) and Consulting. Holisol works on the value proposition of Design-Implement-Manage to offer customers an experience of working like their own extended team, with affordable strategic and operational expertise.
Headquartered in Delhi, Holisol has a workforce of +300 supply chain enthusiasts who are continuously building value through leadership, innovation and relationships. For more information visits us at www.holisollogistics.com or email us at communication@holisollogistics.com