Enhance Your Supply Chain Profits With Returnable Industrial Packaging Solutions
Supply chains have gone through a huge transformation with fluctuations in demand patterns. In addition, businesses have felt the need to cut down costs as much as possible and stay in the competition. An important component of any supply chain, i.e., Packaging, which remained under the shadow is the area of concern for supply chain managers. Especially in the automotive, heavy machinery and industrial components sector, packaging plays a key role as it not only ensures safe transportation of product but also increases the quantity that can be shipped in a transportation unit. There are multiple industrial packaging solutions on offer but which packaging is best-suited for your product requirements is an important question to answer. Another concern that packaging must address these days is about its environment friendliness.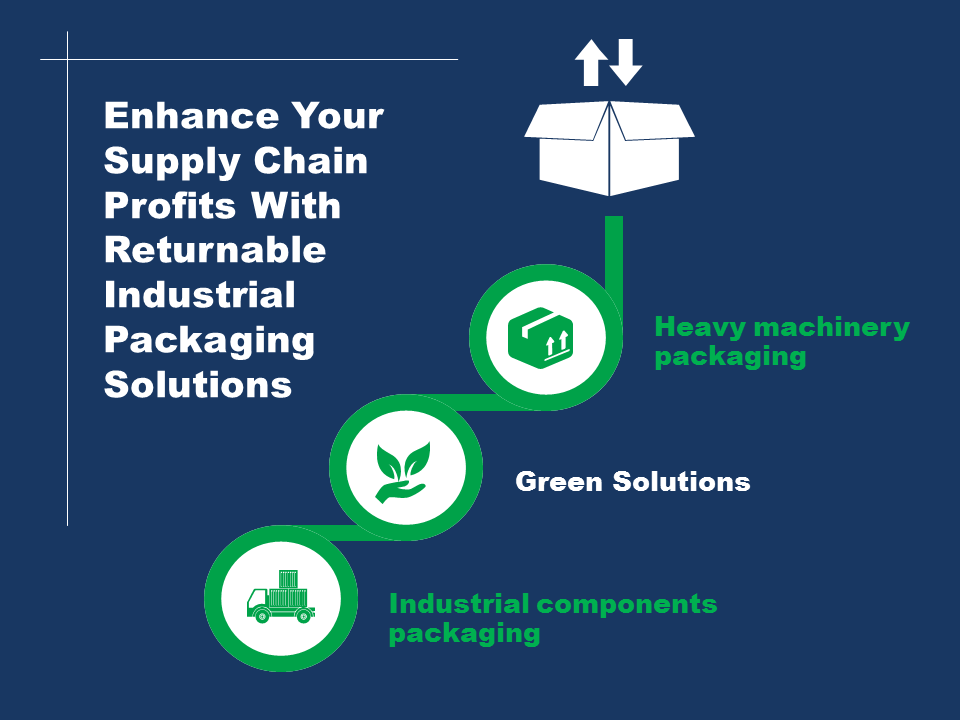 To solve all these issues, Holisol experts have designed returnable and reusable industrial packaging solutions which are cost-beneficial and environment-friendly at the same time. Read on to know more –
1.    Tailor-Made Packaging Solutions for Automotives and Heavy Machinery
Export-Import of automotives/heavy machinery is a tricky thing for manufacturers to handle considering the huge costs involved. There is an increased concern regarding the safety of the goods in transit. To overcome these concerns, we have developed in-house industrial packaging solutions which can be customized as per your transportation needs –
a.    SKD Solution – When you wish to transport the goods in a semi-knocked down form, the optimal packaging with returnable and re-usable solutions works best and save up to 30% of the logistics costs.
b.    CKD Solution – When the need of the hour is to transport comparatively more units; we have the industrial packaging solution for completely knocked down vehicles. It increases vehicle loadability by 50%.
c.    CBU Solution – You won't have to worry when you need to safely put the completely built unit in the shipment container, our CBU packaging solution would let you transport the heavy machinery in a secure manner and we will find a room to fit something more into the container.
2.    Customizable Packaging Solutions for Industrial Components
Auto components, as well as other industrial components, have unique packaging requirements and their packaging equipment cost may hover around 3-4% of the total unit cost. As the shape of these industrial components is peculiar in nature, we offer collapsible PP bins, steel containers etc. which are a perfect match for the products to be packaged and can be used multiple times enhancing efficiency and generating more savings.
3.    Lessen carbon footprints with Green Solutions
In addition to all these, our green solutions benefit both the manufacturers as well as suppliers. These industrial packaging solutions are a great alternative to traditional wooden packaging as there are lesser carbon footprints, reduced logistics costs and above all, safer work environment.
It is clear that packaging plays a very important role for retaining that competitive edge and achieving more revenue in your supply chain. Therefore, it is advised to choose Integrated Supply Chain Packaging Solutions, industrial packaging solutions which can be used again and again, thereby saving more bucks and leading to lesser scrap generation. Having watched and experienced the industrial requirements closely, Holisol offers its packaging solutions which can be customized as per your requirements.
About Holisol:
Holisol is a leading supply chain organization providing solutions in retail (end-to-end fulfilment), Auto & Engineering (packaging & supply chain) and Consulting. Holisol works on the value proposition of Design-Implement-Manage to offer customers an experience of working like their own extended team, with affordable strategic and operational expertise.
Headquartered in Delhi, Holisol has a workforce of +300 supply chain enthusiasts who are continuously building value through leadership, innovation and relationships. For more information visits us at www.holisollogistics.com or visit us at communication@holisollogistics.com