How 3PLs Get You No 1 Supply Chain With Effective Retail Logistics Management?
Retail has gone through a huge transformation not only in the urban world but rural areas are also seeing a lot of organized activities in this sector. With the rise in competition, retail giants have a clear cut agenda of giving best products without compromising on service. One thing that specifically sets them apart from the pack is their products' availability in the right amount at right time and at the right place. While this aspect requires a lot of focus and efforts of any company, it may actually divert their much-needed attention from their core business. For this very reason, 3PLs are considered to be the best option for your retail logistics management.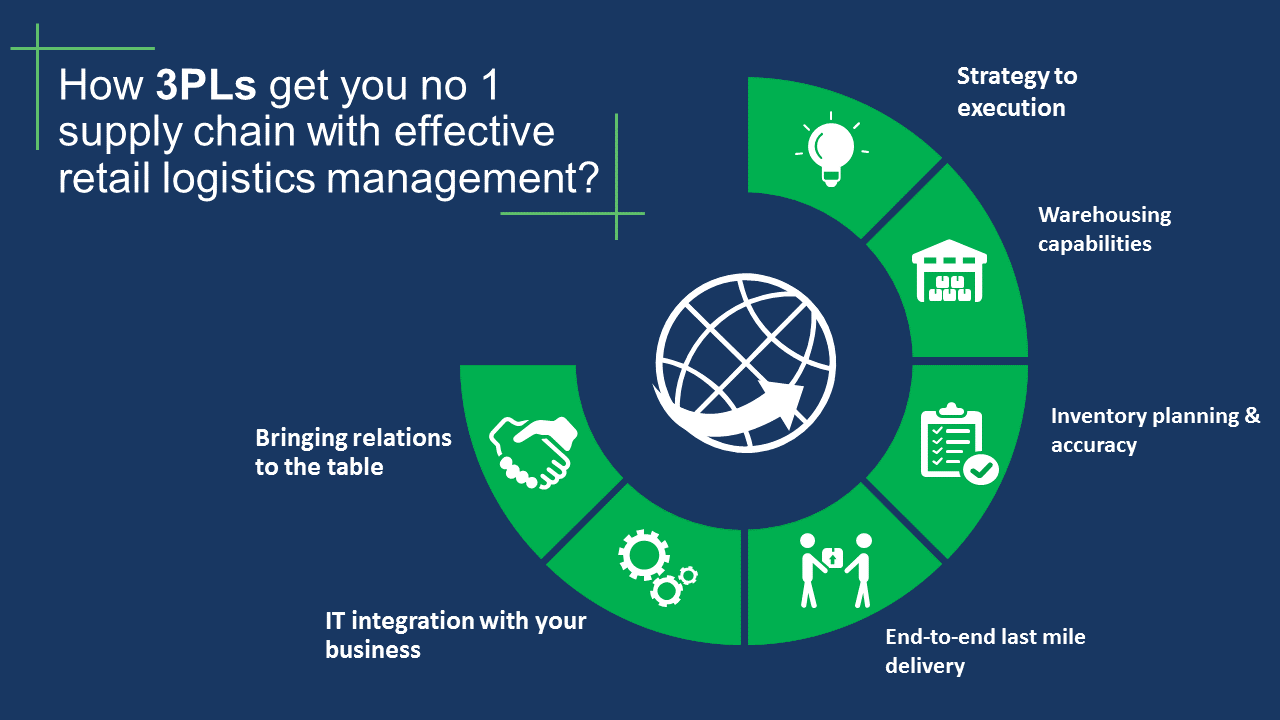 Read on to know how 3PLs enable your business to reap desired benefits through professional retail logistics management –
1.  From strategy to execution –
Retail logistics management is not only about chalking out the plans on whiteboards and discussion tables. It goes deep into executing them in the most efficient possible way at the ground. Supply chain experts analyze your business requirements deeply, formulate the strategy and make sure it aligns with your business while execution is taking place in the real-time scenario.
2. Warehousing capabilities –
Managing a warehouse requires additional workforce, specialized training and best technologies even though warehousing is just a support component for your business. However, warehousing is an integral part of your business which ensures supply chain is up and running. To overcome this, look for 3PLs who can free up the pressure on your capital which goes into owning up the warehouses. 3PLs already have state-of-art warehousing facilities which not only act merely as storage facilities for your supply chain but add certain values to the products too. In addition to this, they fully understand the rising complexities in retail supply chains and consequently design warehousing operations for maximizing the output.
3. Inventory planning & accuracy-
It has been seen that demand fluctuations have the tendency to impart inefficiency in supply chains which may be a resultant of either excess inventory or insufficient stock of goods. Inventory planning is a huge component of retail logistics management as the businesses may suffer to a huge deal due to unavailability of goods when needed by the customer. Another way around, excess stocking leads to an unnecessary rise in storage costs. Great level of competition leads to shift in customer preferences and may impact your business in long term. This is where you need the business acumen of supply chain experts who keep your inventory at an optimum level. Not only this, 3PLs make sure that physical measure of inventory is in alignment with the official inventory records. Inventory accuracy ensures that you are always one step ahead with correct information of available inventory, due to which you have accurate shipping lead times, accurate data for financial records, reduced operating costs and have the advantage of determining future process goals with better clarity.
4. End-to-end last mile delivery management-
LMD is the face of your organization and has the potential to build your image among end consumers. Since it is difficult for one delivery service provider to reach everywhere, at times, there may be a requirement of multiple service providers to expand the reach of your network. This leads to a huge mess as you need to coordinate with all the service providers. Specific to this cause, 3PLs manage your last mile delivery end-to-end acting as a single point contact without your need to worry about multiple service providers. What more, they offer delivery services without squeezing your profit margins and never compromising on the timely delivery.
5. IT integration with your business –
We live in a world where it is almost impossible to survive without technology. This statement is true for retail logistics management too. Supply chains need real-time visibility into inventory levels across distribution network, warehousing, delivery management and so on. 3PLs ensure you end up getting best-in-class retail logistics solutions which cater to all these requirements to ensure cost-savings and a higher level of customer satisfaction.
6. Bringing relations to the table –
Despite many changes, retail logistics in India still remains largely dependent on relationships in ecosystem. 3PLs, in addition to all these business enhancement activities, would bring the relevant relationships to your organizations resulting in creating sustainable value to your business.  However, you must look for a 3PL service provider who has spent years operating in the industry and brings these relationships on the table for you.
It is clear that retail logistics management is one of the most important processes for achieving desired excellence in your business. With the increase in competition across the retail industry, any little but significant turn of events must be handled professionally to negate negative impacts on business. For this specific reason, it is advisable to look for 3PLs who can carry out the retail logistics management without compromising on your business values and maintain the desired level of efficiency.
About Holisol:
Holisol is a leading supply chain organization providing solutions in retail (end-to-end fulfilment), Auto & Engineering (packaging & supply chain) and Consulting. Holisol works on the value proposition of Design-Implement-Manage to offer customers an experience of working like their own extended team, with affordable strategic and operational expertise.
Headquartered in Delhi, Holisol has a workforce of +300 supply chain enthusiasts who are continuously building value through leadership, innovation and relationships. For more information visits us at www.holisollogistics.com or email us at communication@holisollogistics.com