6 Irresistible Benefits You Get With Your E-Commerce Logistics Partner
Are you new to e-commerce business or plan to be an e-tailer so that you can cash in on the opportunity thrown wide open with the emergence of e-commerce? However, before you begin e-fulfilment operations in the B2C segment, you must have a clear-cut strategy whether to develop the required capabilities within your organization or outsource this key operation to logistics professionals who may offer you the best e-commerce logistics solutions.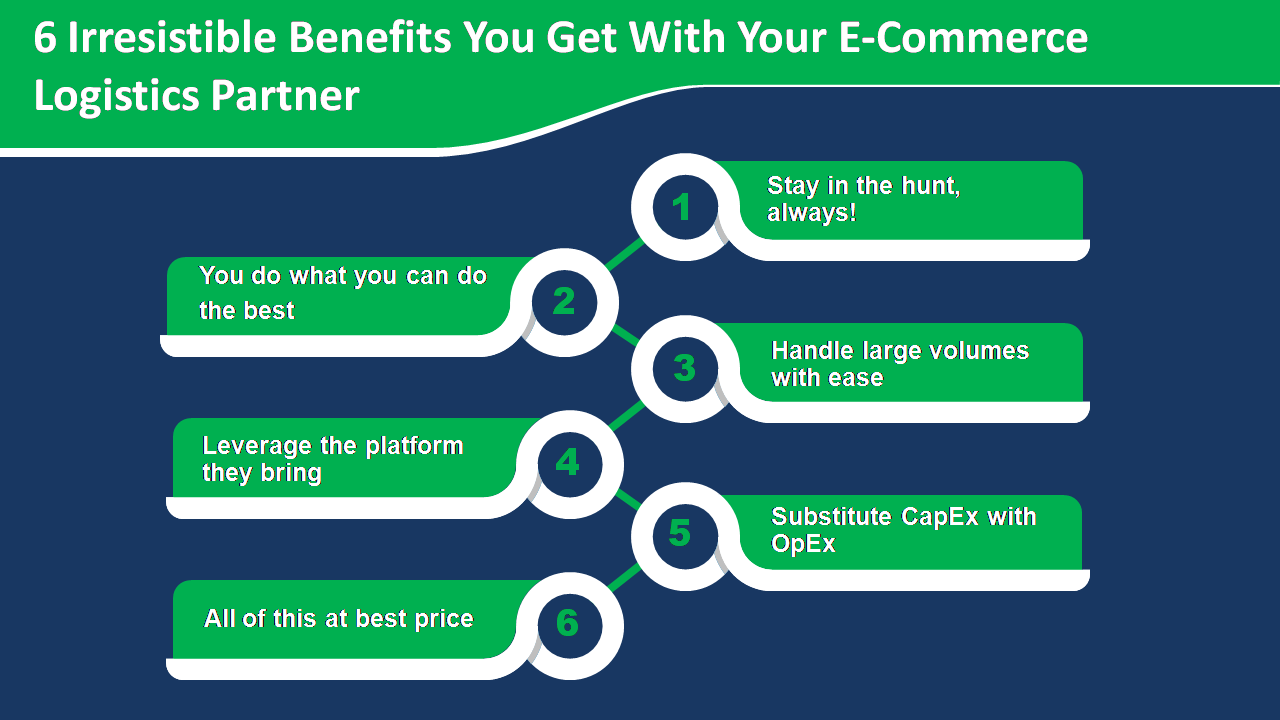 Why joining hands with aright 3PL partner would be the best bet to stay fit and fight the ever-increasing competition in e-commerce industry?
You would be in a better position to answer this question once you go through these 6 benefits that 3PLs bring to your table with their e-commerce logistics solutions.
1. You do what you can do the best : How would you add value to your existing business and how your profits would be maximized by selling more and more? This must be on the top of your mind, right? You didn't come to the e-commerce business to manage your logistics when it is not even your forte, this is where the most logical choice appears to be outsourcing your e-commerce logistics to the 3PLs and let them handle it on their own. Your focus should revolve around how to develop your business further.
2. Stay in the hunt, always! : Another issue which is very tough to overcome not only in e-commerce business but anywhere, either you are too late to enter the market or someone else is going to emulate your success. To stay competitive and not lose out on market share, your e-fulfilment operations must be at their very best. E-commerce logistics solutions offered by right logistics partners give you the much-needed boost to fightthe competition.
3. Leverage the platform they bring : Yes, you have read it right! When you are new to the e-commerce industry and strive to set up your own logistics infrastructure, you are bound to fall on your face. Why not make use of the advantage you could have by utilizing the well-established infrastructure of your logistics partner? This would ensure faster reach of your products to the market giving you slight competitive edge.
4. Handle large volumes with ease, leave nothing to chance : Game of e-commerce is full of uncertainties, there would be times when volumes reach a scalewhich is tough to handle. But don't worry, when 3PLs are at your service, they will bring best e-commerce logistics solutions handling uphills and downhills in the orders with required flexibility freeing you up of these worries.
5. Substitute CapEx with OpEx : When you decide to own the logistics infrastructure, this fixed cost puts pressure on your business wallets. Add up the costs incurred on manpower, IT systems without which you can never sustain the competition – you would soon realize it is best to outsource e-fulfilment operations to logistics experts and this budget can be very well utilized in running the operations with a better outcome.
6. All of this at best price : Don't be surprised when you really get all these services at very affordable prices. The reason is simple – over the same infrastructure, supply chain experts offer e-commerce logistics solutions to multiple customers, thereby bringing down the overall costs.
E-commerce logistics is a completely different ball game than offline supply chain operations. Make sure you have the experts by your side when you enter the court because the speed with which the market changes is completely difficult to comprehend. That is the reason why experts at providing e-commerce logistics solutions aligning with your business would assist you in exploring unmatchable benefits.
About Holisol : Holisol is a leading supply chain organization providing solutions in retail (end-to-end fulfillment), Auto & Engineering (packaging & supply chain) and Consulting. Holisol works on the value proposition of Design-Implement-Manage to offer customers an experience of working like their own extended team, with affordable strategic and operational expertise.
Holisol has a workforce of +300 supply chain enthusiasts who are continuously building value through leadership, innovation and relationships. For more information visits us at https://holisollogistics.com/