The outbreak of the global pandemic had indeed slowed India's economy down to the doldrums. However, the rise of certain, rather surprising trends during this contingency contributed thoroughly towards helping the nation hold its place resolutely as the 6th largest economy of the world with organized retail estimated at $836 billion, FY 2022, displaying a significant recovery from $760 billion, FY 2021 compared to $830 billion, FY2020.
During the COVID-19 phase stretching from early 2020 to mid-2022, traditional retail experienced an unfortunate unforeseen hit with incessant lockdowns, sudden loss of purchase power among the masses and heavy disruptions in the supply chain. What the nation witnessed though is the rise of e-commerce, where people could place orders from the comfort of their homes and avail benefits like BNPL (buy now pay later), discounts / rebates / purchase points, risk-free no-contact deliveries, quick commerce and more.
The dramatic impact of these simple problem-solving conveniences trickled into tier II and tier III cities as well, causing momentous transformations in purchase behavior of the general Indian populace, thereby triggering a series of game-changing trends that kick-started continual transformation of organized retail and ecommerce landscape in India to match the more mature global market leaders like USA, UK and Germany.
Now, let us take a look at some of the interesting trends that are set to shape organized retail and ecommerce in India, all fueled by the remarkable influence it would create on customer choices…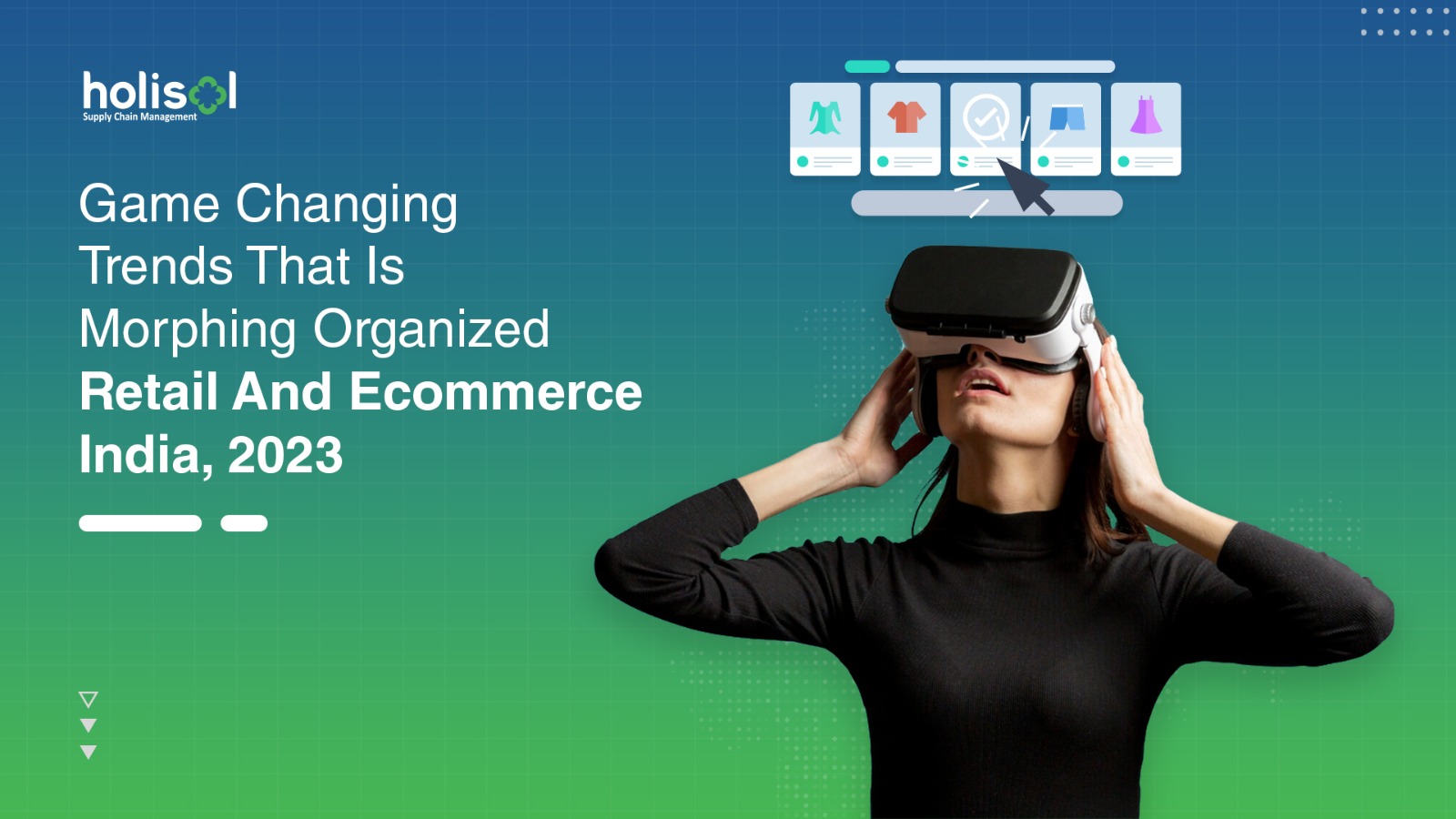 Organized Retail And Ecommerce Trends, India 2023 –
Online Retail Gets The Throne – Even though traditional retail holds the lion's share of the Indian market at 81.5%, online retail is picking an extraordinary pace, growing at 32% to touch $225 billion over the next few years. D2C is the key propeller of this herculean growth which reflects in a whopping 45% CAGR since FY 2021. In fact, the e-commerce industry had reported a 69.4% growth in order volume compared to 44.9% in 2021, displaying amply that online retail is gaining a steady preference over traditional retail by the day. Owing to financial uncertainties in 2021, discretionary expenses were very limited during the period leading to GMV reporting a slower growth to order volume at 37.2%. However, many first-time online shoppers of 2021 continued their online shopping journey resulting in a quick recovery of the figures to 73.6% in FY 2022. As per firm market predictions, online retail is here to stay, grow and thrive.
Targeting Metaverse – According to McKinsey report, the Metaverse is expected to touch $5 trillion valuation by 2030. Employing AR (Augmented Reality) and VR (Virtual Reality) to take e-shopping experience to a whole new level, many brands are seen experimenting with the possibility mostly to stay ahead in the game before others catch up with the inevitable. The focus of the metaverse is to deepen the bond between brands and customers thereby promoting higher engagement and transactions.
Adoption Of Smart Automation Technology – Heavy investment in technology to construct a robust agile AI powered supply chain eco-system that can handle sustained growth D2C / Private label brands is the next key trend in the world of organized retail and e-commerce that is here to last. In fact, the National Logistic Policy, 2023 is seen to motivate organized e-retailers to adopt and implement AI tools and technology to streamline the supply chain, reduce costs and offer better experience to buyers. These contributed to the growth of the segment by 38%.
BPC Rules – Surprisingly, a segment that had taken a plunge during the Covid-19 contingency, has displayed an overwhelming recovery with growth rate of 143% in terms of order volumes and 132% in terms of order value, FY 2022. Other segments that are toeing high growth rates post pandemic are…
health and pharmaceuticals at 62.4% order volume growth and 62% order value growth
Fashion, Accessories and footwear at 59.7% and 67.8% order volume growth respectively
Eyewear and accessories with 66.2% order volume growth
More and more online /D2C players are seen to make their way into the BPC category which has posed an impressive competition to the traditional retail market, given that its growth rate is not to be taken lightly.
Building Brand Loyalty With Stronger Websites – Ecommerce hold very little meaning if the brand websites cannot generate enough trust and loyalty from their potential customers. Gaining and retaining attention of potential buyers while scoring high on the competitive scale has resulted in the trend of focusing aggressively on creating sturdy online presence and direct sales. As a result, websites have displayed an 80.4% YOY growth, FY 2022 in sharp contrast with 59.6% growth rate reported by marketplaces. Flexible, AI backed, tech driven, easy to navigate websites have driven a surge in digital shoppers making this trend a strategic 'constant' through this decade and beyond.
Surprising E-shopping Surge In Tier II and Tier III Cities – Tier II and Tier III cities dominate online shopping reflective in a growth rate of 92.2% and 85.2% respectively compared to 47.2% growth rate in Tier I cities. In FY 2022, Tier I and Tier III cities contributed to 61% of overall market share compared to 53.8% in FY 2021. This steep rise in online order volumes from tier II and II cities has further lead to the establishment of warehouses and fulfillment centers in the respective regions to support rising demands.
Strategic Reduction In Order Returns – Order returns are expensive and weighs down on operational costs. Reducing order returns thus, remains a key trend in organized retail and ecommerce. On a very positive note, order return rate has witnessed a consistent YOY decline standing at 14.8% of total order volume, FY 2022 from 16.10%, FY 2021. This much necessary improvement is owed to certain key strategic actions like endeavors to convert Cash on Delivery payments to online payments, better incentives on no return options etc. Besides these, here are a few upcoming global trends that are likely to make a stronghold in India in the forthcoming years.
Social Ecommerce; Rise of Influencers – As the name suggests, this form of ecommerce refers to shoppers that discover their products in social media and follow up by researching and purchasing through the social media platforms itself, without having to visit the home website. Here, brands are expected to benefit heavily by shortening the time between purchase decision and purchase action. As per market research, social ecommerce is expected to reap about $2.9 trillion by 2026. Given that top social media platforms like Facebook and Instagram witness voluminous traffic from all parts of the nation including tier I, II and III cities, proactive e-retailers can grow exemplarily with social ecommerce.
Strategic Targeting of GenZ and Millennials as Consumers – Being born in the digital age, GenZ and Millennials pose as one of the best target e-commerce consumers. Often found living paycheck to paycheck while expecting high levels of personalization in their shopping experience, organized retailers and ecommerce brands are seen to implement solutions like BNPL (buy now pay later), BOPIS (Buy online, pick-up in store), UPI linked payments etc. to gain and retain their positive attention and engagement. As per market research, India's GenZ users of smart phones spend an average of 8 hours online per day with about 90% preferring native language while viewing content. Personalization is thus, another key trend that is taking over organized retail and e commerce.
Key Takeaways –
Trends that are currently dominating organized retail and ecommerce in India are vast, heavily strategized and most importantly tech inclusive. The aim is to maintain a consistent growth trajectory while making purchase easy, affordable and approachable by maximum percentage of the population.
The rise of D2C brands, focus on omnichannel presence, developing hybrid shopping experience, adoption of automation technology, targeting new shoppers from every tier and keeping customer satisfaction and brand loyalty at top priority, feature among the most powerful trends that are currently shaping India's organized retail and ecommerce to match the global leaders.
Sources: – Wazir Analysis, List of Biggest Retail companies in India 2022 – IndianCompanies.in, Wikipedia (6th central pay finance based)