As per World Bank's Logistics Performance Index 2023, India ranks 38th among 139 nations, which is a 6-place upward leap since last year. Estimated as $435.43 billion this year, the figures are expected to touch $650.52 billion by 2028 at the rate of 8.36% CAGR. The figures indicate momentous growth, even though the sector is currently 90% unorganized.
All thanks to major government initiatives like the National Logistics Policy (NLP) comprising of a number of strictly infrastructural and supply chain technology improvement programs, followed with the ambition to keep pace with evolving global market drivers which is a direct result of bourgeoning cross border commerce, ecommerce growth in Tier II / Tier III cities etc. Indian logistics warehousing market is seen to toe certain highly progressive trends that will make it a key contributor to the estimated $26 Trillion Indian economy by 2048.
Fast Facts – According to the World Bank, by 2036 India will need to invest $840 billion in municipal services and infrastructure to keep pace with expanding urban population.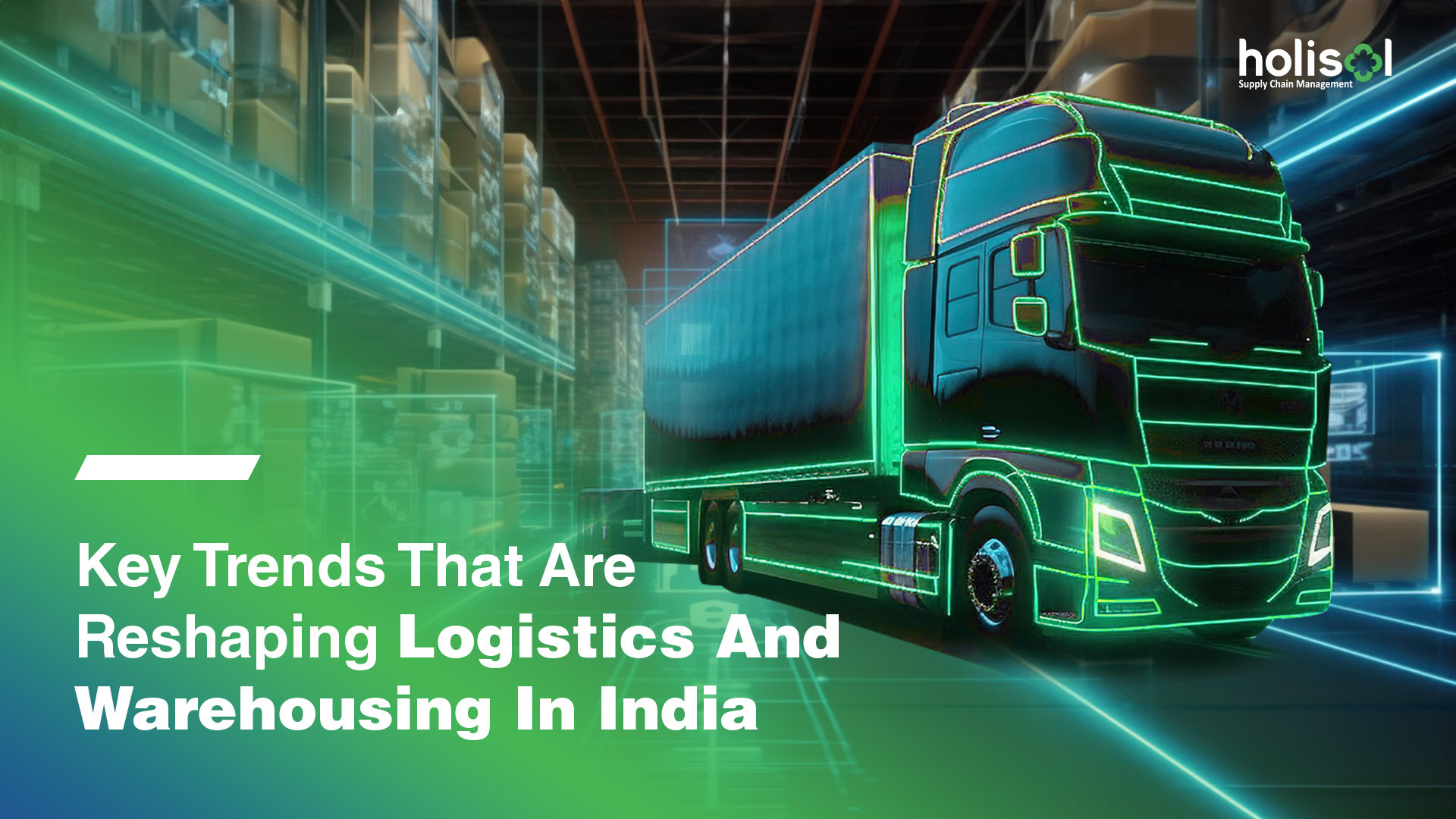 Key Trends Shaping Logistics And Warehousing Market In India
Recording a 10% – 12% YoY growth, the logistics market in India seems fairly well placed as far as the aim to become the 3rd largest economy in the world by 2027 is concerned. The following trends are likely to add full throttle to the endeavor.
Rise of 3PL – 3PL market size in India is estimated at $37.31 billion in 2022 and is expected to touch $53.02 billion by 2028. At the moment, the market concentration is low, but is steadily creating its presence as the most significant trend currently prevailing in the Indian warehousing and logistics market.
Given that the economy is on an expansion mode, small and mid-sized ventures are seeking out 3PL services to handle their warehousing and logistics requirements and gain competitive benefits like optimizing delivery timelines, avoiding enormous capex and maintaining an asset-light model.
With rising expectations of tangible results, 3PL companies have equipped themselves with all inclusive logistics support that can offer real benefits to client companies like cost reduction, providing accurate ETA, capacity expansion, improved visibility, reporting and analytics, integrations and more.
It is anytime a safer and smarter solution to bridge the gaping gaps in this largely unorganized market.
Permeation of Technology and Automation – Rise of technology and automation in a strictly labor-intensive logistics and warehousing ecosystem wasn't as difficult as it may have once appeared. With ecommerce receiving an epic boost during and after the pandemic, a larger percentage of companies / businesses are prioritizing smarter and leaner operations with the usage of AI, Robotics, IoT and digitization. Automation is not a trend anymore, but a necessity.
Usage of visual twins, that is, virtual replicas of physical objects like buildings, to visualize warehouse operations and coordinate data from sources like IoT sensors for predictive planning are also seen to gain prominence as a trend in Indian logistics and warehousing market.
Fast Facts – Did you know, AGVs and AMRs will control 18% of the total warehouse automation market by 2026.
Internet of Things (IoT) – IoT is not just technology, it is a revolution in itself. Automating an expansive array of critical logistics and warehousing tasks, it is literally a one stop solution to eradicating errors, adding lightning speed to core processes, store and broadcast real time inventory information, fortify inventory / asset safety and so much more.
Being a nation that has primarily handled all logistics operations manually and jolted into fast absorption of technology only after the pandemic, India is seen to ease into using IoT slowly and steadily than taking it up on war footing.
At the moment, many surveyed companies in India have been seen to use IoT in some form like, warehouse management (26%), inventory management (21%) and order management (19%). Many have cited high IoT costs as a major reason why its absorption rate is so low. With the NLP though, IoT as a trend is soon to convert into IoT as a staple.
On-Demand Warehousing gets Attention – While the hub and spoke model has been a constant with larger logistics entities in India, helping them meet 1-to-2-day delivery expectations from customers, on-demand warehousing is receiving thorough attention from small to mid-sized companies to achieve similar targets at lesser costs.
Intended to assist with warehousing space requirements, on-demand warehousing harnesses extended capabilities of app-based tools to connect with logistics players that offer extra warehousing space when required, on pay-per-use basis.
Rise of Tier II and III Cities – Inclusion of Tier II and Tier III cities in the world of distribution is playing a significant role in the rapid growth in logistics and warehousing market in India. In fact, as per reports, these non-metropolitans and often suburban regions have witnessed a 17.4% YoY growth in industrial and warehousing absorption. This growth is a direct outcome of increasing demand for goods and services among the residents of these areas that have experienced steady economic growth and rise in disposable incomes.
Indian logistics and warehousing market benefits further from Tier II and Tier III cities, given that operating costs in these areas are far lesser compared to the metropolitans which goes a long way in saving costs and gaining more profit margins in favor of the concerned companies.
Fast Facts – According to reports by Unicommerce, FY 2022, Tier II cities accounted for 60% of shipped orders.
Cold Chain – Cold chain warehousing forms merely 3% to 5% of the total leased warehouse space in the top 8 cities in India at the moment, and is named as the most efficient users of warehouse floor space. As per FSSAI, 1/3rd of food (fresh / packaged) gets spoilt before it is sold / consumed resulting in enormous wastage and losses in the part of vendors.
Development of cold chain infrastructure is the only remedy to this serious issue making it a growing trend in the logistics and warehousing market in India which is experiencing an ever growing trend of online grocery shopping.
Fast Facts – Did you know, only West Bengal, Punjab, UP and Gujarat account for 60% cold chain storage capacity in India.
Block Chain – The Global supply chain blockchain market is estimated to grow by 51.3% CAGR by 2028. At the moment, blockchain in supply chain plays a significant role in accurate predictive analytics leading to spot-on precision on demand estimation. In fact, falsification of transactions is impossible with blockchain.
Early adopters of blockchain have already experienced significant competitive edge over those that are yet to embrace the technology making it an emerging trend that is soon to become a staple with top logistics players in India.
Green Logistics – Warehouses, ports, freight and transportation is responsible for 11% of global greenhouse gas emissions. India, however aspires to achieve a net zero carbon footprint by 2070 which has channeled a number of dedicated initiatives towards the cause.
Indian logistics is primarily road based and road freight accounts for 95% of all GHG emissions. Promoting inter-modal freight, electronic vehicles, energy efficient lighting / heating / cooling in warehouses etc. through subsidies and support programs in the National Logistics Policy 2023 is a gigantic step taken in favor of achieving this goal.
Furthermore, with 75% shippers seeking green logistics while exporting to high income countries, the trend has been welcomed by businesses / logistics companies in the nation.
Fast Facts – Did you know, the logistics sector will be the largest contributor of CO2 emissions by 2050
About Holisol
As one of the country's leading contract logistics service providers, Holisol Logistics offers comprehensive physical and digital solutions to small, mid-sized and large entities alike. On the physical front, Holisol offers flexible and customizable services through our FC (Fulfillment Centers), Hyperlocals, Dark stores, and LMD (Last Mile Delivery). On the digital arena, Holisol offers advanced tech solutions such as WMS (Warehouse Management System) and sophisticated analytical tools equipped with AI/ML (Artificial Intelligence/Machine Learning) capabilities that are tailored to support growth, expansion, cost saving, streamlining, digitization, automation and more in favor of client companies.
The aforementioned trends are very evident in the growth of the retail, e-commerce, logistics and warehousing industry. The fortified solutions of Holisol can strongly support clients in achieving their long-term goals and strategies in the prevailing market conditions.
Sources: –Reference:
https://www.researchandmarkets.com/reports/5567003/india-logistics-market-2023-2028-by-transport
https://www.colliers.com/en-in/research/2023-q1-colliers-india-industrial-snapshot#:~:text=Industrial%20and%20warehousing%20demand%20across,to%20the%20previous%208%20quarters.
https://www.selecthub.com/warehouse-management/warehouse-automation-trends/
https://www.itln.in/logistics/trends-that-will-reshape-the-logistics-industry-in-2023-1347663
https://www.india-briefing.com/news/revolutionizing-logistics-in-india-top-trends-driving-business-operations-in-2023-28178.html/#:~:text=Robotics%20and%20automation%3A%20Automation%20technologies,cost%20savings%20and%20increased%20productivity https://content.knightfrank.com/research/2677/documents/en/india-warehousing-market-report-2023-10258.pdf https://www.grantthornton.in/insights/articles/the-future-and-trends-in-warehousing-and-logistics-sector-in-india https://www.aninews.in/news/business/business/indian-logistics-firms-betting-big-on-drones-cloud-iot-and-blockchain-here-technologies-study20230512150515/