DopEx – The Easiest Way Of Getting Things Done
Are your assigned tasks getting delayed and do not complete in time? Do you need to follow it up multiple times?? Most importantly, do you wish you could have better control over the task progress? If the answer to these questions is YES, you should read on know how you can get the things done easily. All the strategies and plans have to be broken into tasks to make the execution successful – which makes achieving 'Daily Operational Excellence – DopEx' a pre-condition for success.  To enable top executives and managers to achieve 'Daily Operational Excellence', Holisol has designed a web and mobile based app to assign, track and measure the daily performance of the teams.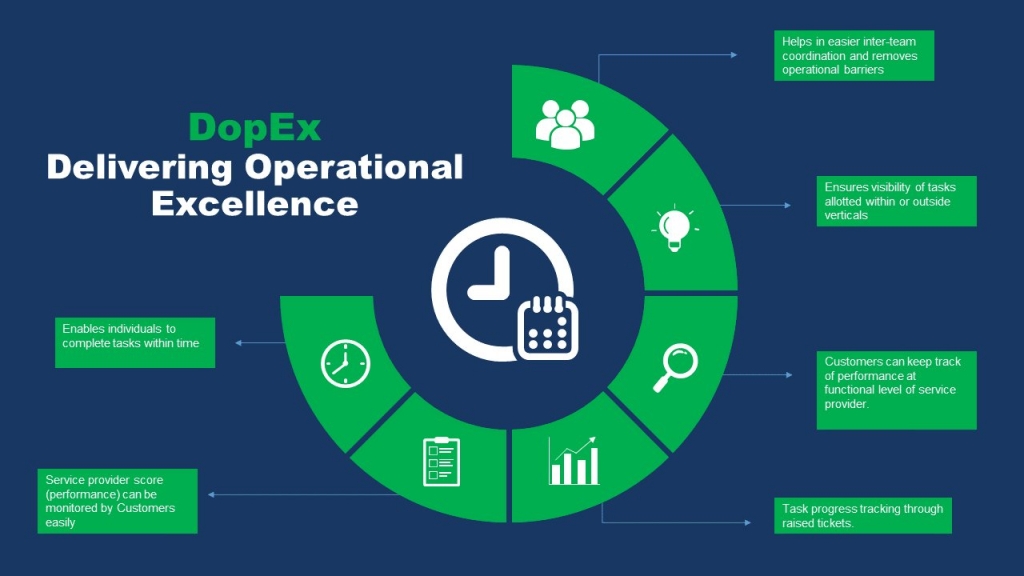 Executives and managers who have used the system, report that they have managed to save 2-3 hours of their daily time, meanwhile enhancing operational efficiency by almost 50%.
• Assign tasks with clear deadlines – It is important that things get done, but building operational efficiency is a determinant of whether the team is getting the things done within the stipulated time. In the actual world, things get delayed at certain functional levels as and when newer tasks arrive. DopEx makes it easier to allocate tasks from anywhere and track the progress mapped to deadlines.
• Take Follow-ups out of Equation – In the ideal world, for top level executives, designing strategies is the highest priority. However, it is a commonly time-consuming practice for them to keep a tab on the tasks allotted to the team members. In the competitive world, this costs a lot to the company in the long run. The magnitude of the problem gets amplified when a simple task requires multiple follow-ups for ample reasons. DopEx eradicates this issue of multiple follow-ups and lays down the responsibility totally in the court of allotted individual. Top-level executives can sit back and focus their energy on where it is needed the most.
• Auto Reminders if tasks not completed on time – Co-workers in their busy schedules tend to forget about the status of important tasks and this becomes a cause of delay in task completion. DopEx is designed to send auto reminders to task owners as well as assignees leading to tasks getting done in time.
• What gets measured gets done: Measure performance daily on the go – DopEx not only records the tasks but enables you to measure the performance in quantitative terms. It is safe to assume that in addition to achieving the objective of getting things done, you get a tool in your hand which serves as one of the criteria for employee's annual appraisal and performance review. If required, you can keep a check on daily performance from anywhere, anytime.
• Have Teams in Process improve the Process – Inter-team coordination is one of the biggest challenges when tasks are the responsibility of multiple teams. Since "DopEx performance" of every individual is linked to annual appraisal, he/she remains conscious whether the task is completed well within the stipulated time. This ensures that process never gets hindered at any stage as it normally happens when one of the functions is not able to get things done at their end. Thus DopEx enables the overall development of the process.
In order to build operational efficiency by getting things done in the easiest possible manner, it is advisable to implement DopEx, a robust IT solution which brings desired efficiency into the operations. It ensures transparency in the task allocation system and makes it easier to monitor the progress in quantified form. At any level, it is easy to use and it perfectly aligns with the fast paced business' requirements of allocating tasks on the go. What more, it is a perfect solution for daily task review which helps you in saving 2-3 hours of your daily time, thereby increasing overall operational efficiency. For more information visit us at communication@holisollogistics.com