Counter 5 Warehousing Challenges in Multi-Channel Retail Logistics
The retail industry has very swiftly transformed and with this, it has called for a transformation of all involved variables. It has seen the rise of multiple channels, be it supermarkets, e-commerce or catalog, which has led to a rise in demand and customer expectations. The traditional ways to meet multi-channel demands seem to be outdated and multi-channel retail logistics has felt the added pressure coming through different channels. To counter this, retailers need to have a strong infrastructure in place. As they say, warehouses are the backbone of multi-channel retail logistics and how ready these warehouses are for the orders placed on multiple platforms, will ascertain the future and growth of retailers.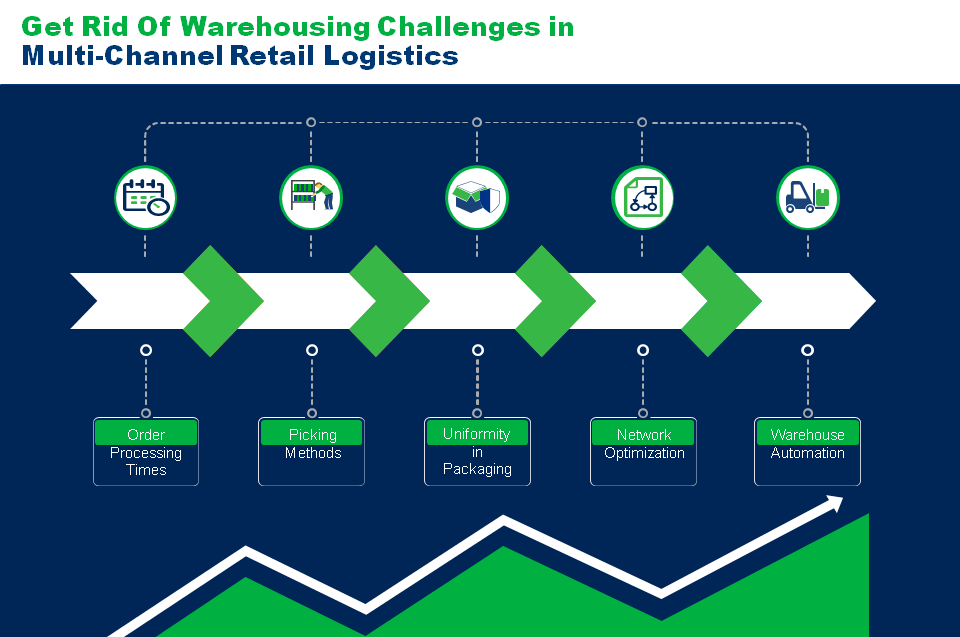 Read on to know the commonly faced challenges faced in warehousing for multi-channel retail logistics and how you can get over them –
1.Managing Order Processing Times
With the rise of e-commerce along with existing channels, time taken for order processing is a challenge to overcome in multi-channel retail logistics. Customers ordering online cannot wait to lay their hands on orders as soon as they place an order. While batch orders by brick-and-mortar stores for their in-stock might be required to be delivered in 2-7 days. A new headache arrives when peak season demand raises its head; it becomes difficult to process orders, let alone giving assurance of how long it will take. To get over this, warehouses need to have well-defined processes for each channel, build enough process checks to ensure timely order processing, along with a fully capable WMS system which enables managers to ascertain order-processing times and fulfill orders on time.
2.Structuring Picking Processes
As stated above, in the multi-channel retail logistics, direct to consumer selling order volumes have risen from 5% to 30% which has rendered the traditional picking methods useless. One-size-fits-all picking processes should be thrown into the bin and warehouse managers must adopt different picking methods for bigger batch SKUs and smaller ones.
3.Having Best Packaging Systems in Place
Retailers are concerned about how their products are packaged before delivery when they are operating through multiple channels. This is where expertise and experience of multi-channel retail logistics partner becomes hugely valuable. It is advisable to have consistency in the packaging methods being utilized at the warehouses for the products to make them look more presentable to end customer.
4.Network Optimization
As the GST is being implemented across India, it has come across as biggest of the challenges for multi-channel retail logistics because of GST impact on retail industry. To stay ahead of the pack, experts suggest doing away with "n" no. of warehouses at "x" locations and choosing a centralized location, which would best serve the network. There may be a possibility of having smaller distribution centers, which can process orders at a rapid rate during the peak demand hours. But arriving at the right decision requires thorough analysis of the business volumes and other dynamics, which would need expertise and understanding of multi-channel retail logistics.
5.Warehouse Automation
At the warehouses, automation is a necessity but it is easier said than done. It is a tough ask to bring it all together and train workforce across a huge warehouse in lakhs of sq. ft. area for the technological equipment to be put into operation. When machines replace humans, increasing or decreasing headcount comes as another issue and must be carefully handled. Resources being employed in warehousing operations need to be engaged with right guidance and training which contributes to their development and makes operations interesting for them. This leads to overall enhancement in efficiency of the warehousing operations.
Strengthening multi-channel retail logistics is the key to fulfilling the demand of end customers. Changing industry trends, buying behavior patterns, government regulations etc. are a cause of concern for the retailers and they must seek expert opinion to overcome these challenges. As Warehousing is one of the most important links in the multi-channel retail logistics, it is advisable to employ the services of professionals who have got hands-on experience in this domain.
About Holisol:
Holisol is a leading supply chain organization providing solutions in retail (end-to-end fulfilment), Auto & Engineering (packaging & supply chain) and Consulting. Holisol works on the value proposition of Design-Implement-Manage to offer customers an experience of working like their own extended team, with affordable strategic and operational expertise.
Headquartered in Delhi, Holisol has a workforce of +300 supply chain enthusiasts who are continuously building value through leadership, innovation, and relationships. For more information visits us at www.holisollogistics.com or email us at communication@holisollogistics.com