A flexible and versatile logistics partner can be your win-win solution for any and every market uncertainty. Read on to find out how you can identify these attributes in logistics companies and how these core elements can help your business thrive.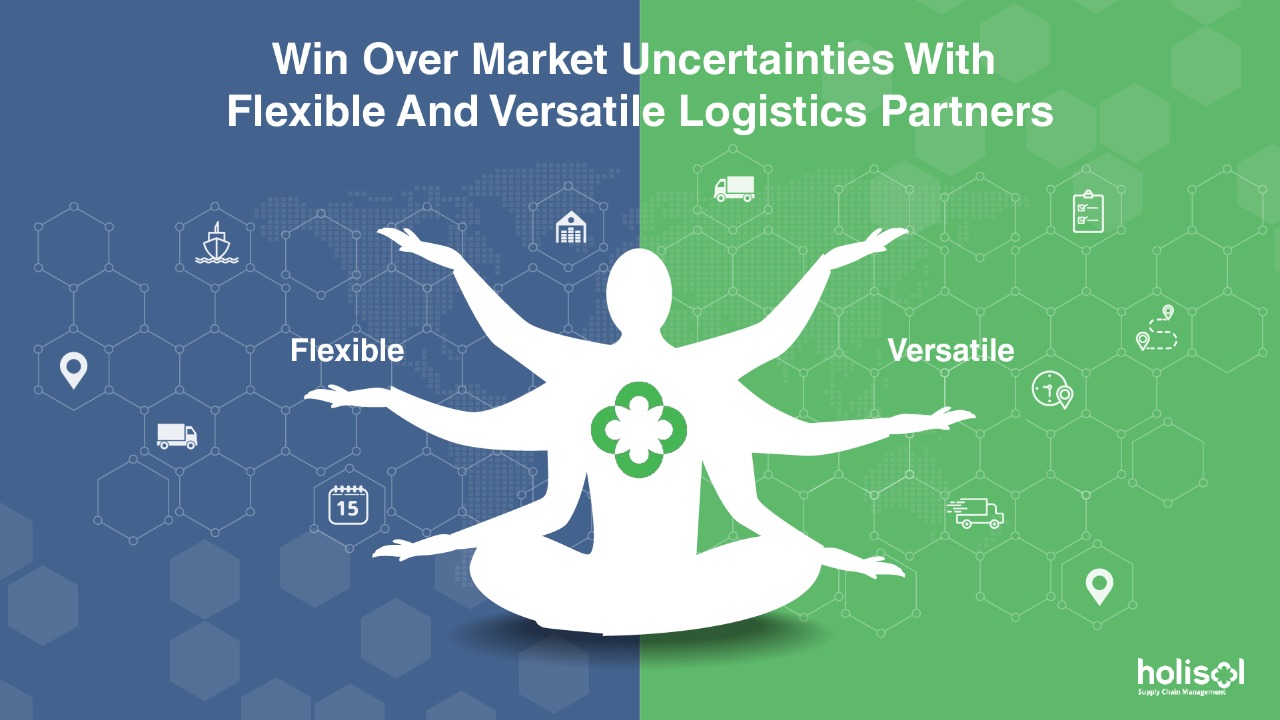 While it is true that change is the only constant in the world of trade and logistics, the 2019 Global Pandemic has slapped us all awake in terms of how quick, drastic and dramatic 'change' can be. Slow and steady transformation is a luxury that no growth-based logistics company can afford in this geo-politically challenged scenario.
What is needed is enormous and urgent flexibility and versatility in logistical services that can bridge gaping gaps left behind by shape-shifting market trends which are likely to carry on for a few more years before it stabilizes.
For your business to thrive amidst this unexpected chaos, you need an agile and adaptable logistics company that is equipped to offer prompt response in remedying the sudden fragility that has gripped the supply chain system today. Your chosen logistics partner should be attributed with quick-thinking and should be able to restructure established norms to help solve crippling issues faced by traders and merchants of all volumes across all industries with 100% value for investments.
In simple words, while choosing your logistics partners in these turbulent times, you must look for the two key elements of flexibility and versatility in their planning, operation and process implementation. This is primarily because, a flexible and versatile approach to logistical support is the 'only way' you can shield your business from otherwise crippling market uncertainties.
Wondering how to define and identify 'Flexibility and Versatility' in logistics partners? Read on to find out.
Flexibility:
Flexibility, a defining characteristic of new age logistics companies is crucial for supporting critical aspects of supply chain through these turbulent times.
Here is a glimpse of such flexible attributes that can give logistics companies a significant edge over top global players that may still be chained to lengthy and inflexible systems.
1. Get Set & Go: Blending and Reshaping with Geopolitical Changes – COVID 19 Pandemic has dismantled pre-established import/export set up between certain countries that had previously held the market prominently for decades before. The demand base has now shifted to neighboring nations where logistics needed to be set up from scratch.
While this is a herculean challenge given the time constraints in which the task needed to be accomplished, a flexible and responsive approach can help devise unique solutions based on parameters like.
understanding the current political / economic / infrastructural environment of the new locations
identifying unique challenges and designing solutions accordingly
facilitating temporary tie ups to send shipments anytime and anywhere around the world even through incessant lockdowns
ensuring 100% compliance with legal protocols and living up to cost expectations
2. Out With The Outdated: Remodeling with B2B and B2C Trend Evolution – The global mayhem following the 2020 Pandemic has forced certain changes in the B2B and B2C trends with a flood of otherwise conventional shoppers falling back on e-platforms to have the A to Z of their retail necessities met.
This caused….
Thousands of otherwise offline sellers / retailers to create online presence
The necessity to synchronize logistical support to cater to growing buyer / seller requirements
Demand to fulfill same day / 24-hour delivery and,
The need for Cost optimization to maintain healthy profit margin
In this respect, it is expected that your chosen logistics partners are flexible enough to remodel now-irrelevant solutions promptly be it in terms of establishing more fulfilment centers in prime locations or embracing agile logistics technology and aggressive cost optimization practices.
The idea is to allow smooth, uninterrupted, cost effective and timely deliveries irrespective of unexpected odds.
As a client, you should be empowered with the flexibility to divide and stock your inventory in as many warehouses of your choice in tune with your order location while benefiting from policies and charges that apply uniformly to all.
3. Marching Ahead With Multichannel: Multichannel flexibility distinguishes agile logistics companies from inflexible counterparts. From dealers and distributors to online retail stores; from exclusive shops to multi brand outlets, flexible logistics partners are always equipped to bring it all under a single multichannel fulfillment window.
This allows you as a seller, the flexibility to be at any sale-point with the assurance of easy, uniform, hassle free, quick, faultless and cost-effective fulfillment for all. There are a few upcoming logistics companies that can help customers set up fully functional multichannel fulfillment centers in as less as 30 to 45 days. choosing these companies for your overall logistical support can help you maintain a significant competitive edge in the market at all times.
4. Unique Pricing flexibility – This is yet another advantage that has proven favorable to clients (traders / sellers / merchants) that need to work around fluctuating / short term order and inventory requirements.
Unlike top global logistics service providers that have rigid pricing parameters, agile upcoming companies are more likely to offer expense optimization flexibility at grassroot level. For example, with these companies, clients can have the option to choose unit-based pricing, that is pricing in terms of per piece, per order, per square foot, per palate or even, per item category as is feasible for them.
You can also receive assistance in suitable warehousing and fulfillment mapping that can help you track your logistics costs accurately and decide on profitable pricing for your products.
5. Warehousing optimization – E-commerce and global trade is marked by serious uncertainties this decade. Flexible warehousing is one of the many ingenious ways in which proactive logistics partners can help clients tide over the looming chaos.
Flexible warehousing optimization solutions can work phenomenally well in favor of sellers that were / are affected by order uncertainties arising from sale unpredictability or even miscalculations for that matter.
Making space for larger inventory for bigger orders when smaller orders were expected and vice versa;
Cost optimization to accommodate the unforeseen instabilities without affecting the clients;
Temporary hiring to scale up as per client requirements…
…are some of the many laudable attributes that set a worthy logistics partner apart from larger players in the market.
Versatility:
Versatility is the key attribute that can fuel upcoming, proactive, futuristic logistics support providers to grow and thrive even in turbulent and unpredictable economic / business landscape. Here's a glimpse into little endeavors in terms of versatility that can help clients make outstanding accomplishments in the short and long run.
Versatility in Industries Served – From FMCG and Pharma to automotive, aeronautics and IT, agile logistics partners should be equipped to offer all-inclusive services for each and all. Understanding exclusivity of industries, is the key to create flexible and customizable solutions that cater to the uniqueness of clients' products.
Value Added Versatility – Quality checks, reverse logistics, repairs, refurbishing, packaging, specialized warehousing, specialized transport, logistics chain integration services (LCIS) and 100% automated tracking and tracing of inventory are some of the core value-added services that can help clients achieve their business goals smoothly and cost effectively.
Temporary tie-ups to upgrade core capabilities – From hiring temporary man power and machines to provisional tie-ups with freight forwarding and last mile services, logistics partners should be versatile enough to upscale its core capabilities momentarily as and when need arises.
Final Thoughts:
Flexibility and Versatility are the two integral catalysts that have helped Holisol level up with the changing ground realities of clients. Being aware of the fact that one size never fits all, Holisol is always prepared to upscale, downscale, blend and even create whole new solutions that fits client requirements perfectly. At this moment, Holisol has 26 fulfillment centers across 19 cities each of which is open for 'temporary usage' by clients if situations so require with plans to expand even further with trend evolution.