Adding Value to SCM by way of Packaging Re-Engineering
Most times we face a statement with reference to packaging design is that, "it is not a rocket science". Agreed, there is no rocket science in it, but one thing needs to be appreciated is that, there is a bit of science in it. Moreover, applying re-engineering in packaging scientifically definitely leads to a value proposition in SCM.
The conventional packing processes involved in packaging of products tend to keep higher factor of safety, which in most cases is not required. Conventional methods also miss out to factor the impact of logistics on products that are packed. The packing companies, which are driven by value engineering, attempt to design an adequate packaging from complete supply chain perspective, wherein the customer might pay 5% more for packing but end-up saving 30% cost in entire supply chain.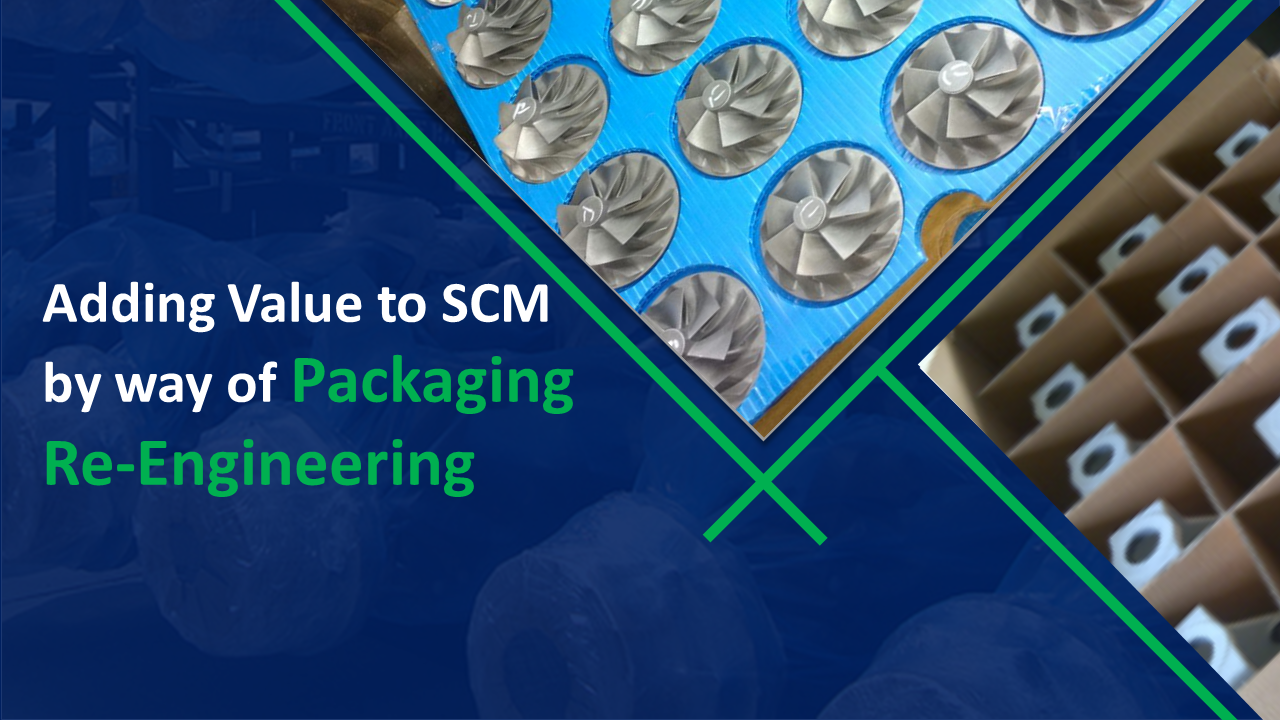 The value propositions that can be achieved in SCM by way of Packaging Re-Engineering can be understood well with the help of below illustrations:
In Air Freight: The freight cost in case of air cargo is determined by gross weight of cargo. In such cases, customers are required to pay additional for the weight of the packing as well. Many times, customers unknowingly pay more or equivalent freight for packing as much they pay for their products. Reason is the weight of the packing outweighs the weight of product. If considered this aspect with a perspective of re-engineering the packing design, the gross weight of the entire package can be brought down drastically while ensuring that the performance of the proposed packing remains intact.
In Sea Freight: The freight cost in case of sea cargo is determined mainly by volume of cargo and secondarily by weight. A volume wasted in sea freight containers is directly proportional to the excess freight paid to shipping line. The movement of automobiles in Completely Built Units (CBU), where vehicles are placed on container floors and dispatched is a classic case where companies miss out on the opportunity of utilizing the container volume to optimum level. If packing is created in such a way that two vehicles are stacked one above other, this will lead to optimum utilization of container volume. The container 'loadability", or the extent to which more units can be loaded in a container can be increased by slightly dismantling the vehicle to make it 'Semi Knocked Down' (SKD), or packing it as kits. While customers may view the cost of dismantling, packing and re-assembling at destination as an additional cost, there is a significant cost savings achieved on overall logistics cost of each unit shipped.
While in Storage: In today's world, creating space for storage of products is becoming more and more challenging for the manufacturing companies. Every additional square foot used for storage becomes a direct cost of manufacturing. In such scenario, a packing suitable for stacking where it can go up to multiple heights becomes a preferred one for the companies. A well designed packing can become a good source of storage on bare floor without being dependent on any racking system.
Factor of Safety: Conventionally packaging is designed by factoring in mishandling and abuse during logistics. This leads to keeping a higher factor of safety while designing the packing, which was perfectly alright a decade or two back. However, with the changing technology in material handling and the growing awareness amongst logistics players, it becomes more vital to design a packing that suits the logistics conditions and pockets of customer. This is possible by working with established 3PL companies such as Holisol Logistics who have a complete know-how of logistics, and the demands of product packing.
Packing is a visiting card: Aesthetics is also one of the essential elements to be considered in re-engineering of packing. Along with sturdiness, a good looking packing is not less than a business card of the product manufacturer. It not only adds value to the product but also to the brand image of the company.
Packaging is no more a mere extension of production, but has engulfed its importance in supply chain. It is no more looked as a product but has become a part of logistics service. Hence it is necessary for manufacturing companies to start looking at packing re-engineering as a constant process for adding value to their products and eventually to the business. Packaging is no more a *** end activity with least priority that needs to be executed as a formality to push the products out. Increased necessity for safe delivery with undeterred quality of product to end customer with optimized cost is gaining more importance for packing re-engineering.
For more information contact us at- communication@holisollogistics.com