Three Reasons You Should opt for a 4PL Services Provider
As the business grows, companies find it challenging to manage their inventory which should be stored and moved in an efficient manner, while keeping it traceable. To cater to the demands from multi-channels in the supply chain, companies tend to opt for the multiple supply chain partners for 2PL or 3PL activities.
Even though each outsourced entity may be an expert in its own domain, complications start arising when it comes to manage the operations in a coordinated manner. Here-in comes the value addition from 4PL service providers. 4PL service providers are thorough seasoned professionals who invest their knowledge and efforts in designing best-suited solutions specific to the business. They accordingly evaluate and nominate the vendors, and closely manage the ongoing operations. Hence a 4PL treats the solution as the priority and not the available infrastructure with the associated vendors.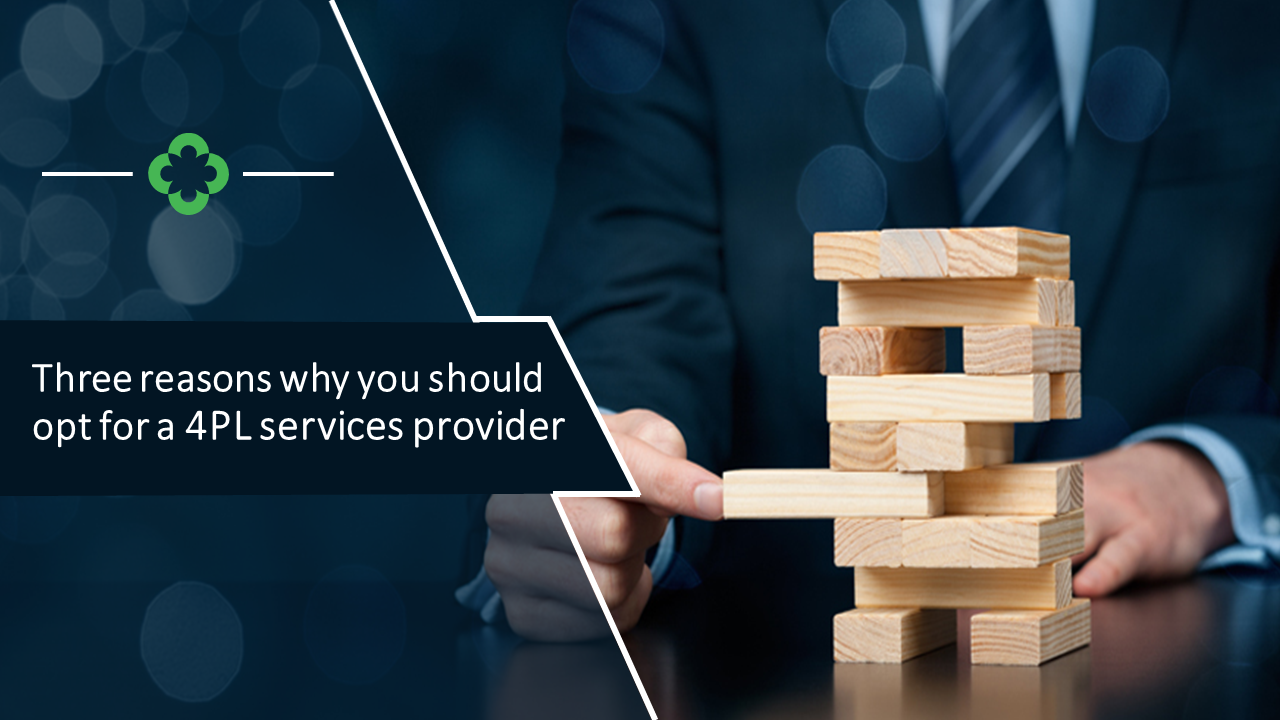 Concept of Fourth Party Logistics (4PL)
4PL works as the management layer which oversees activities of multiple 3PLs or 2PLs with whom an organization is, or will get associated with. In other words, a 4PL service provider integrates all types of resources or resource providers with respect to different attributes of the supply chain, and synchronizes their activities through IT systems. The three basic reasons why one should go for a 4PL service provider are –
Solution Oriented Approach – One needs to appreciate that 4PLs aim at designing the solution first, with respect to the client's requirements, wherein the designed solution encompasses the entire supply chain and not specific to a domain. The 4PL has an expertise of end-to-end operations relating to the warehousing, distribution, freight or IT, and addresses each aspect while designing the best fit solutions. However, when companies directly approach separate vendors for their services and infrastructure requirements, they often end up procuring supplies which the vendors are keen to sell them, and may not necessarily be the optimal solution. So, the main advantage an organization can avail from a 4PL partner is a solution based approach rather having a pre- built product which is customized specific for their business model.
Vendor Management – One of the biggest pain points of most companies, is the management of multiple vendors for same or different set of operations. 4PL service provider aims at resolving this issue by managing the complete eco-system of vendors required by the client covering all the aspects of the supply chain including procurement, warehousing, transportation, distribution and IT. In fact, as the 4PL is involved from the stage of vendor evaluation and onboarding, they also ensure that the right sets of systems, processes, and metrics are implemented so that the ongoing operations can be smoothly managed. This enables the companies to focus on their core business competency.
IT Enabled Supply Chain – While working with multiple services partners, a company usually receives some extent of IT reports to build insight and create visibility based on its partner's capabilities. However, the key challenge lies in integrating the various reports into one single seamless report which provides it with end-to-end visibility. This is another area where a 4PL adds significant value by setting up an end-to-end IT platform which integrates all information relating to the clients supply chain. The 4PL can provide the client with comprehensive reports, alerts, insights, etc. which helps the client to take decisions faster and more efficiently, thereby also generating significant competitive advantage.
Therefore, 4PL service providers cater all the business needs by efficiently taking responsibility and authority of entire chain of supplies and not just the individual wings of warehousing or logistics, etc. With an optimum investment of time and money, 4PL proves to be the best choice for a company to manage its supply chain.
Moreover working with a 4PL partner provides you with several added flexibilities. Firstly, they can be hired for long term operations, or on project basis where they can manage the complete show for their client and then handover the operations to the client itself Secondly, as the 4PL is driven by value creation, they normally work on a nominal management fee, and profit sharing model. Thirdly, they become the single point of contact for all the operations and managements.
For more information contact us at- communication@holisollogistics.com