Be more customer centric e-commerce company with right logistics partner
E-commerce is getting more popular among customers because of conveniences like door step delivery, choice of products, single window shopping, ease of payment and easy return processes. While buying any product customers presume that products will be delivered at very high speed and convenience alongside complete transparency to track their orders instantly from the moment they click the 'Buy' button.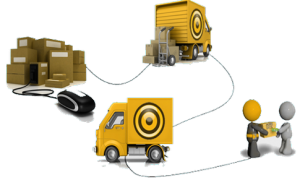 Considering all these customers' expectations, logistics becomes the key for perfect e-fulfilment. Right logistics partner improves customer centricity and helps online retailers in achieving their key objectives of perfect order fulfilment ("Delivering right product in right quantity in right packaging at right time to right customer").
On an average, a product is moving 90% of time in its life cycle and 10% of its life is spent in static state. Therefore, in this competitive environment where every business is going online, efficient and effective logistics processes become the key differentiator to be successful.
Read onto to know how partnering with right logistics provider can make business more customer centric in the field of e-commerce.
Right processes to meet TAT (turnaround time)
In order to deliver product timely TAT (turnaround time) of every process counts. To meet timelines processes from receiving till delivery and return should be aligned and well defined. Failing to meet TAT of each individual process impacts your delivery time and increases customer dissatisfaction. Because of high growth, very high peaks and troughs, customer expectations, wide product range, a concoction of managing e-commerce logistics become very challenging. There remains a lot of chaos due to internal pushes and pulls resulting in lot of ineffieincies and underutilized capacities, increasing door landed cost of products. This is where an experienced and organized logistics players can help you in gaining control as well as providing that much needed flexibility. Logistics players who have been there since the emergence of ecommerce in India and have proven capability to manage first mile, warehousing and last mile for the customers understand the customer pain points and design processes to address bottlenecks to get sustained process improvements. They implement systems processes and SOPs to achieve higher order fulfilment rates and improve success rates for their customers.
Efficient dispatch/distribution processes
Dispatch is the most important process of any supply chain whether it is offline or online. Efficient distribution processes help to deliver your product timely and efficiently. Distribution processes starts right after your labelling process. Including segregation, load distribution, shipment routing and proper handling. Customer always expect to get a damage free and right product at right time with proper traceability. Smart managers know that distribution requires large network along with latest technology and cash management solutions. Logistics service providers understand these challenges, have created network and processes to overcome these challenges with least cost.
Optimize inventory level for efficient operation
In e-commerce businesses inventory locks-up a lot of finance as well as increase inventory risk. Keeping inventory at optimal levels is a major challenge for most of the e-commerce players and required expertise and knowledge to solve it. Factors like minimum-maximum order quantity, replenishment cycle, storage method and perishability of product play a vital role in deciding the inventory level. Experienced logistics providers have knowledge and expertise to define your optimize inventory level from the initial stage or know the thumb rules to optimize it so that minimum capital is
Importance of technology
Technology is the backbone of ecommerce both at front-end and back-end. Technology is essentially required from order placing till delivery. WMS (warehouse management system), barcoding, RFID, TMS (transport management system) and customer management system are major technologies need to run a smooth back-end operations. When customers place an order in single click, they also need flexibility to track, postpone and cancel their order in single click as well. Besides, technology make your processes more efficient and error-free. Logistics players have used these technologies for years and very well know what works for a specific supply chain. They are also quick to customize technology to suit a new requirement. Hence working with experienced logistics players help you quickly solve the back-end technology puzzle and bring speed to your supply chain execution.
In India or many parts of the globe e-commerce is in starting phase. Many start-ups or existing offline businesses are starting their e-business to reach and serve the customers better. However, logistics remains a key enablers as businesses try to scale-up and grab the market. To get the best logistics and sustain it, it is advisable to engage a partner like Holisol.
For more than 6 years Holisol logistics is designing, implementing and managing supply chain operations of multiple online as well as offline businesses. Whether requirements are related to supply chain consulting, warehousing, distribution and transportation, Holisol brings experience, expertise, relationships and innovation on the table, while taking leadership to manage logistics operations as you focus on 'sourcing and selling'. For more information mail us at info@holisollogistics.com