Domestic SKD Transportation of Tractors – The Positive Double Whammy
Introduction
SKD and CKD solutions have been widely accepted worldwide for export and Import of automotive. This mode of transportation ensures trade benefits, better packaging & reduced damages, higher per cubic utilization of packaging & containers and reduction in packaging cost while shifting towards reusable packaging solutions.
In Indian automotive sector and specifically in Tractor Industry, what holds more attention is increased interest in exploring the opportunity of domestic transportation in Semi Knocked down condition.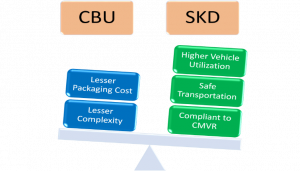 Indian automotive companies have been reluctant to shift to SKD mode of transportation but with changing regulatory compliances and need to reduce overall logistics cost by increasing transportation efficiency has initiated R&D efforts in all major automotives to create a customized solution.
Road of Regulatory Challenges –
Traditionally tractors are loaded vertically on trailers to maximize the loadability and minimize the logistics cost. Though this ensures higher vehicle utilization but it is not in alignment of Section 93 of CMVR 1989 which states –
No motor vehicle shall be loaded in such a manner that the load or any part thereof extends (i) laterally beyond the side of the body.
CMVR allows maximum width of 2.6 meters for any vehicle whereas the length of tractors can be up to 3.8 meters or may be even bigger in few models. To accommodate vehicles vertically, either the transport companies increase the trailer dimensions or the trailers are left overhung. Both the scenarios are direct violation of Central Motor Vehicles Rules, 1989 and is under scanner of Ministry of Road Transport and Highways.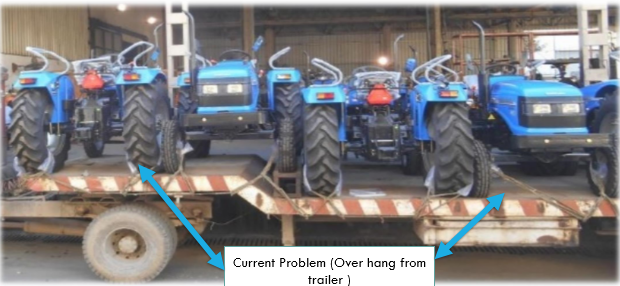 In recent months, governments have taken tough stand on these violations and is committed to ensure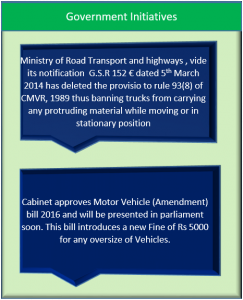 high levels of compliance. Load protrusion is being seen as major reason for road accidents and the provision for allowing overhang of 1 meter for indivisible items like poles and rods has also been deleted from the CMVR act. State governments have been directed to stringently deal with cases of load protrusions and same will also pose challenges for transporting tractors in vertical position.
Transporting tractors in horizontal arrangement reduces the load carrying capacity of trucks by 50 % and will significantly increase the logistics cost.
In the wake of these developments, automotive are looking at alternate ways of transportation to achieve higher operational efficiency.
The Positive Double Whammy
Veterans of Tractor logistics are resorting to semi knocked down solutions to ensure tractors can be transported vertically and can be accommodated within the allowed width of trailers.
The right design can not only save OEMs from legal hassles but also has huge opportunities of increasing the overall efficiency and reducing cost by accommodating more tractors on the same trailer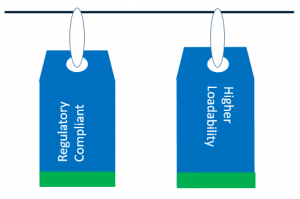 Organizations are contemplating idea of mountable frames which can accommodate double the number of tractors in same space. Reusable packaging solutions will be another area which will draw industry attention as these solutions are cost effective and environment friendly.
The SKD packaging has to be integrated with the overall supply chain strategy of the organization for seamless execution of solution starting from packaging design till the returnable leg. Companies which can manage to integrate it well will reap the maximum benefits of this model. Industry will see emergence of third party logistic companies who can get all the pieces of supply chain together and offer end to end transportation solution to the tractor companies.
Managing the Supply Chain
Design is the most important piece of the whole packaging solution. Large number of tractor variants increases the complexity as the design solution has to be customized as per the specific models. Packaging solution has to be cost efficient, ensure higher per cubic utilization of trucks and should have strength to carry the load.  There has to be close alignment between design and manufacturing teams to ensure that the frames are prepared as per the requirement and manufacturing schedule is aligned with the dispatch schedule of tractor OEMs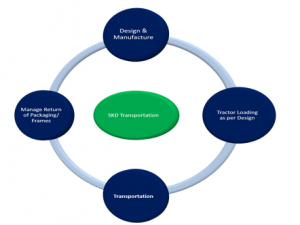 The Holisol Advantage
Holisol being pioneers in Indian returnable packaging solutions offers unique benefits to customers. Presence across the value chain gives us the holistic understanding of customer's requirement and help us to serve them better. We do not see packaging in silo and create our solutions integrating packaging with other aspects of logistics.
Customization Capability  – Our in house design and manufacturing capability gives us better understanding of customer's requirement and develop our solution accordingly. We believe that all customers have unique requirements and so should be the solution.
Value Added services – Our value added services ensures you get the most out of our core services. Our IT infrastructure and analytics capability gives you the clear visibility of how your processes are performing.
One Point Solution – Our end to end capability helps us to serve the customer better. We manage the complete value chain like customer's extended Supply Chain Department and take the full ownership.
Pioneers in SKD & CKD Solutions – We have rich experience of providing SKD/CKD solutions for tractor industry. Our solutions are mostly used for exports which has helped us to develop the International standards of Design and Execution
Each new design has to be validated through test runs for reliability and on ground stability. Loading of tractors can be critical and should be done as per the standard operating procedure designed by the design eam. Transportation is an integral part of the whole value chain and happens at three levels.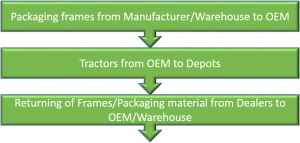 All the processes are interconnected and require close coordination and integration, so that the overall supply chain is efficient.
About Holisol Logistics
Holisol is a leading supply chain services organization providing solutions in Retail (end to end fulfilment), Auto & Engineering (packaging & supply chain), and Supply Chain Consulting. Holisol works on value proposition of Design-Implement-Manage to offer customers an experience of working like their own extended team, with affordable strategic and operational expertise.
Headquartered in Delhi, Holisol has a workforce of 200 plus supply chain enthusiasts who are continuously building value through leadership, innovation and long term relationship.
For glimpses of the kind of projects we have executed, follow our case studies for more information mail us at info@holisollogistics.com