Holisol Logistics awarded "Emerging Company in Logistics Service Industry" at CII SCALE Awards, 2016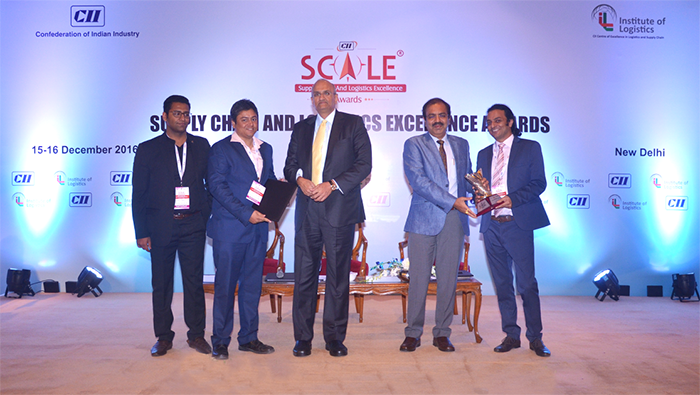 Holisol Logistics Pvt. Ltd. has received the prestigious award of "Emerging Company in Logistics Service Industry" category at Confederation of Indian Industry (CII) SCALE Awards 2016 held at Le Meriden, Delhi on 16th December 2016.
CII through its Institute of Logistics organized the third edition of Supply Chain and Logistics Excellence Awards (SCALE) to recognize the excellence among Logistics Service Players.
The prestigious awards from CII endorse Holisol efforts to contribute knowledge and innovation to create better value for the ecosystem.  "We feel very honored & delighted to be recognized by a premier institution like CII", as stated by Naveen Rawat, Director-Business Development. He also stated, "We will ensure that we continue to innovate and develop knowledge-based logistics solutions for our clients, enabling them to succeed in their business."
The award was received by Holisol team; Naveen Rawat, Director – Business Development, Ajay Kanwar & John Paul Joseph from Business Development team.
About Holisol:
Holisol is a leading supply chain services organization providing solutions in Retail (end to end fulfillment), Auto & Engineering (packaging & supply chain) and Consulting. Holisol works on the value proposition of Design-Implement-Manage to offer customers an experience of working with their own extended team, with affordable strategic and operational expertise.
Headquartered in Delhi, Holisol has a workforce of +200 supply chain enthusiasts who are continuously building value through leadership, innovation, and long-term relationship. For more information visits us at www.holisollogistics.com