Improve Your Warehousing Processes In 5 Ways With 3PL Providers
With the new changes coming to the fore, supply chains across various industries have seen so many innovations. Warehousing is the heart of most supply chains and it has consistently evolved.Warehouses are not there for storage of goods only but their function is much more advanced.Modern warehousing techniques have changed the way in which receiving of goods, inventory management, packaging and shipping was done.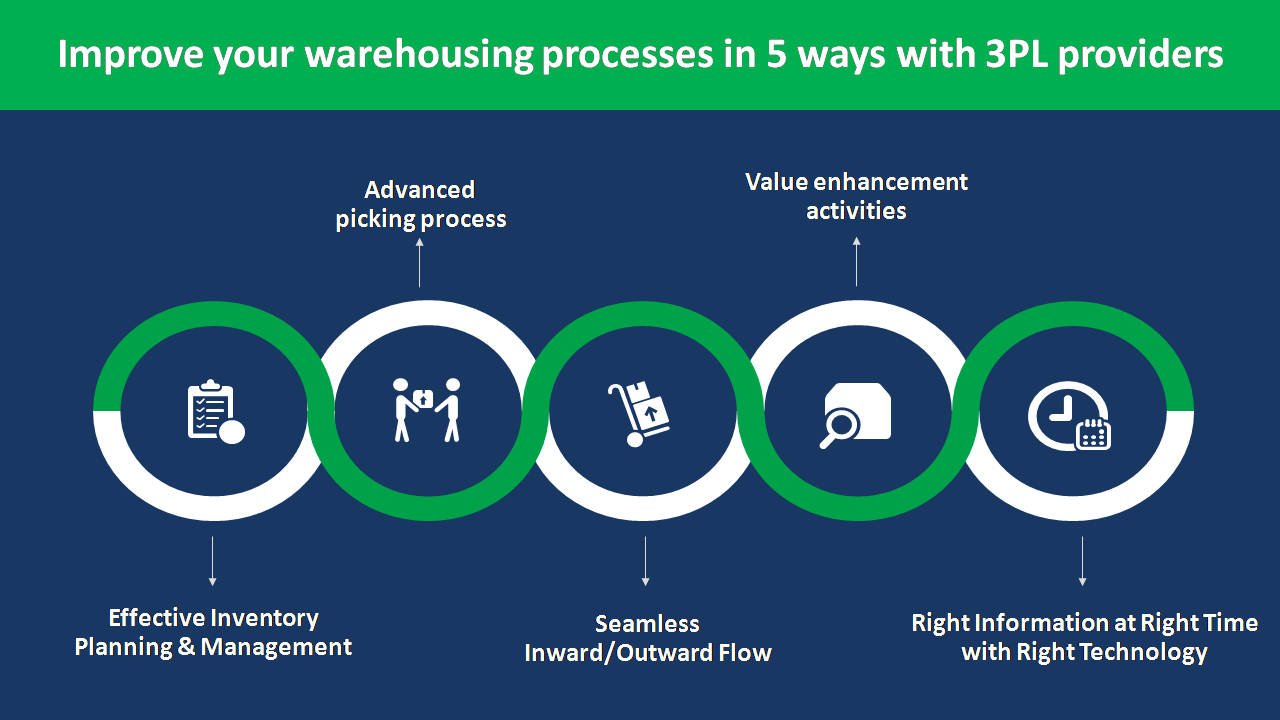 In fact, gone are the days when warehouses used to be focused on similar industry or segment and hosted similar items; these days, it requires managing multiple customers representing diverse industries from fashion retail to FMCG segment, who might have unique requirements. This is where you might feel the heat and your traditional warehousing processes would not be able to cope with the requirements.
To stay ahead of the competition and to exceed customer expectations, it is recommended to utilize the services of experienced 3PLs who will plan your warehousing processes in below 5 ways. Not only this, they make sure that the implementation is done in a manner to suit your operations getting the best results for your business.
Effective Inventory Planning & Management
One of the key warehousing processes – inventory management, has become more complex to handle as the SKU parameters, various norms, fulfillment channels have gone through a lot of variations. In such cases, inventory planning becomes a tough nut to *****. Experienced 3PL providers know which methods fit in for your business needs; thereby enhancing efficiency, reducing costs and inventory risks. Not only this, they implement the technology which suits your inventory management requirements which in turn keeps supply chain process up and running.
Seamless Inward/Outward Flow
Any hindrance in the inward and outward movement of goods not only creates unnecessary bottlenecks but thwarts other warehousing processes too. Generation of GRN, put-away, picking, sorting, shipping etc. – all these variables significantly affect theinward and outward process. Ultimate impact, if any of these is out of order, can be felt in the order fulfillment process. Since order volumes are of fluctuating nature due to multiple channels' involvement, warehouse managers find it tough to manage this warehousing process. Professional 3PL players are fully aware of how to set rules different from traditional warehousing processes, leading to expected outcomes.
Right Information at Right Time with Right Technology
As the operational volumes have increased, capturing data has been one **** of a challenge at warehouses. Warehouse personnel realize that it is almost impossible to capture each carton detail on the paper which may increase risks for inventory. Considering the importance of information flow along the supply chain, experienced professionals implement the best technologies like RFID, barcode readers, WMS, paperless pick & pack etc. to smoothen the warehousing processes.
Advanced picking process
Order fulfillment is a function of picking process, you allow any inaccuracies in the picking and the ordersare set to be doomed.There are many complexities like varying order volumes in e-commerce – the customer may order a single item only while at times, order quantity could be significantly large. Not to discard the color, type and other features of thousands of SKUs, picking process is a pain area for warehouse managers. Expert 3PLs implement advanced picking methods like batch picking, light to pick, voice picking and zone picking to ensure such complexities are kept at bay in the picking process.
Value enhancement activities
Modern warehousing processes welcome the addition of value-added activities for certain industries. 3PLs include the value-added activities in addition to basic processes.To name a few – palletization, repackaging,kitting, labeling and quality control are such value-added services. This is not feasible in traditional warehouses and to pull it off, you might require expert guidance and capable infrastructure on offer by 3PL providers.
From the above points, it's clear that 3PLs ensure enhancement of your overall supply chain with impeccable warehousing processes. You are bound to enjoy the value which you otherwisemight not be able to. Since plenty of 3PLs are present in the market, it is paramount to go for the best one after doing research around their past laurels and present reputation and capabilities.
Holisol is a leading supply chain organization providing solutions in retail (end-to-end fulfillment), Auto & Engineering (packaging & supply chain) and Consulting. Holisol works on the value proposition of Design-Implement-Manage to offer customers an experience of working like their own extended team, with affordable strategic and operational expertise.
Holisol has a workforce of +300 supply chain enthusiasts who are continuously building value through leadership, innovation and relationships. For more information visits us at www.holisollogistics.com or email us at communication@holisollogistics.com