The cosmetic industry abound with innovations and transformations is all geared up to bridge the sudden gap in sales that had followed the global pandemic crisis last year. For an industry that stood at $483B in 2020 stands at $511B in 2021 and is expected to hit an epic high of $784.6B by 2025.
As per industry forecasts, there will be massive shifts in trends with respect to products in demand, consumer behavior and purchase touchpoints, some of which have made their presence felt in the market already.
Tapping into growth opportunities will be possible for brands, retailers, ecommerce sellers, online shops etc. even through the chaos of existing market volatility, only if their supply-chain is prepped to shoulder the upcoming challenges.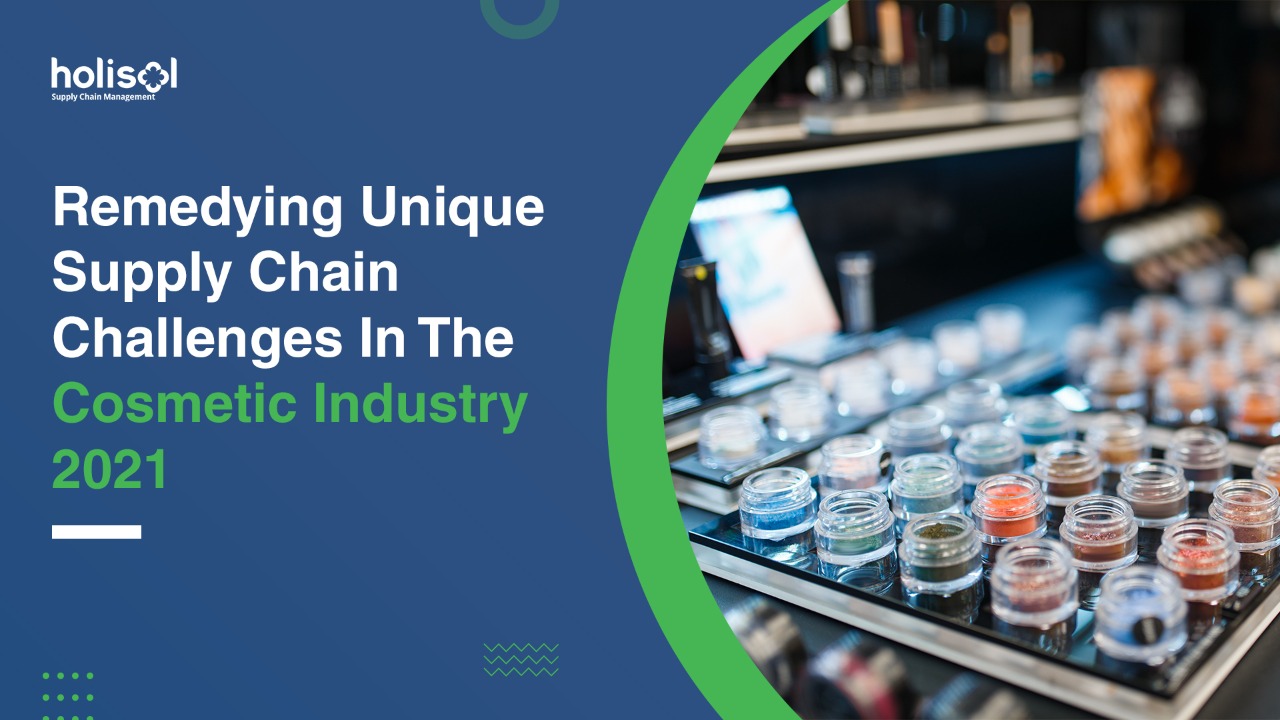 Cosmetic industry trends 2021
'Reality hits beauty industry and there couldn't be anything more productively transformational '
It's not just about colors anymore – Color cosmetics have taken a backseat since early 2020 for obvious reasons. Supply chain systems were suddenly left thinking how to deal with matters like storage, sale generation, prevention of expiry, cost accumulation because of long term storage without sale generation etc.
Products that address consumer concerns have come into focus – Products dedicated to wellness and tackle concerns like stress relief, better sleep, libido enhancement, easing menopause, anxiety and pain relief and more are gaining preference over general beauty products.
Beauty supplements – Beauty supplements are taking over the throne held by conventional cleansing, toning, moisturizing skin care rituals. Beauty supplements are currently available in the form of capsules, chewable tablets, tonics, nutrition powders and more.
Demand for clean-ical skin care soars – Demand for products that uphold justified sourcing, cruelty free manufacturing and transparent ingredient list is witnessing an all-time high. Consumer preference is changing and the need for transparent brands has continued to expand.
Hygiene and safety products are here to stay – This includes hand sanitizers, alcohol-based disinfectant sprays, antiseptic wipes etc. that is becoming the new norm when it comes to maintaining daily health and hygiene.
Supply chain challenges surrounding these new trends
All of these products that are currently in trend need to be warehoused flawlessly in non-hazardous, dust free and temperature-controlled environments. They also require perfect weather and damage proof packaging followed by timely delivery to the end customer, failing which, the products may be rendered ineffective and eventually returned.
Compliance with State laws and regulations is also very important especially in case of aerosol and alcohol-based products. Non-compliant supply chain systems often end up compromising brand image of the respective companies / sellers… a risk, which is best avoided.
'Trends ignite demands and demands drive sales'
The process of sale though, does not conclude with customers making their transactions. Faults in the supply chain system, mainly order fulfillment and last mile delivery damages can initiate product returns.
This is exactly the reason why the beauty industry supply chain system must constantly pull up its socks to meet and address the new and often stupefying challenges that the changing trends and consumer expectations.
Growth in omnichannel sales
'Global shopping trend 2021 is essentially digital and omnichannel …
In store shopping has experienced a massive global set back following the Covid-19 crisis. Going digital is thus, the current trend which is expected to last indefinitely through the forthcoming years. Potential customer footfalls are more on websites and E-Commerce platforms where sales are now touching an epic high.
Given the shift in touchpoints of sale since early 2020, omni channel selling has become the new mantra for cosmetic brands, retailers, sellers and resellers. Certain attributes of the multifaceted customer centric omnichannel sale like…
Multiple regional DCs/FCs rather than single centralized ones
Greater focus on 3PL services
End to end integration for faultless performance across channels
Keeping track of consumer behavior etc.
…requires the cosmetic industry supply chain system to toe the transformations seamlessly.
This is one of the best ways to generate sure shot sale and retain customers with improved shopping experience while upholding brand image of the respective companies / sellers.
Supply chain priorities for retailers / brands in cosmetic industry 2021
'Integrated is not enough… Supply Chain has to be intelligent'…
Given the volume of changes that the cosmetic industry is witnessing at the moment, supply chain solutions need to upgrade their performance to match expected standards. Here are some top priorities that retailers / sellers should prioritize while choosing their supply chain services…
Integrated warehousing – Warehousing in cosmetic industry this year is much more than storing products in an organized manner. This is one of the most integral parts of the supply chain system that integrates critical sub processes like…
Receiving products (in bulk) and using ASN with which the products can be system-received faultlessly
Processing in a first in first out system that reduces product expiry while in storage
Putting away products in their allocated areas
Picking and packing
Dispatch and
Returns
It is imperative for supply chain systems to offer intelligently integrated warehousing where the products can be traced to the minutest detail by the respective companies and end customers as well, with the help of easy yet sophisticated integration solutions.
Condition monitoring systems – Cosmetic industry supply chain cannot succeed without condition monitoring systems. Condition monitoring refers to the physical and environmental conditions that surround the journey of a product from its production unit to the end customer. Supply chain systems with proper condition monitoring system can effectively keep a track on factors like…
Temperature
Humidity
Exposure to excessive sunlight
Physical impacts etc.
…each of which can damage the product to non-usability.
Complete automation and traceability – Manufacturing companies and end customers are always interested in knowing the location and status of their products. Complete traceability dramatically adds to the trust factor which further enhances brand image of the company.
A to Z automated last mile delivery – 2021 emphasizes the importance of last mile delivery as a critically important part of the cosmetic industry supply chain system. Automated last mile delivery enlightens both end customers and companies about safe and satisfactory order completion.
Faultless return management – Returns are a part and parcel of the beauty industry. Certain products that do not qualify for returns can be exchanged. Once return is initiated, the products need to be picked up and transported to the warehouse.
Depending upon the cause of return, the products
need to be restacked and made available for resale as soon as possible or,
sent to the manufacturer as damaged product
The idea is to minimize losses in the part of the company while not compromising the interests of the consumers.
Why Holisol is the perfect supply chain partner for the beauty industry?
Supply chain in cosmetic industry is very challenging and there are only a handful of solution providers like Holisol that can address the burden of requirements in its entirety. Maintaining a 99.9% on-time-in-full order processing, 99.9% inventory accuracy, negligible order cancellations, evolved B2B / B2C management, advanced WMS, evolved condition control systems and A to Z digitization; Holisol is leading the cosmetic industry supply chain management this year into a whole new horizon.