Online Pharmacy – The Way Forward (Supply Chain Perspective)
Introduction
Online pharmacy segment has recently seen good traction from both customers as well as investors. Rising internet ***********, improving medical infrastructure, higher disposable income and the ease of buying online has fueled growth in this segment.
The future of the Industry will majorly depend on the government regulations and robust supply chain infrastructure. The online medicine purchase is a widely accepted phenomenon in developed countries but is still in nascent stage in India. Owing to high number of SKUs and specific requirements of handling, storage, packaging and transportation, medicine delivery has posed entirely new set of logistics challenges.
Success of this format will depend a lot on how these companies manage their supply chain and ensure the quality and regulatory compliances across the value chain, right from first mile pick up to last mile delivery.
The True Potential
Indian pharmacy market is ready to explode with expected CAGR of 23.5 % over next five years and is expected to cross $55 Billion mark by 2020. Currently the online channel contributes to only 0.06 % of total sale which is 16 times lesser than online *********** in retail. This gap has started to fill in last few years which is contributed to increased interest from both investors and entrepreneurs in this domain. Around 31 companies were launched in this domain which raised more than $70 Million in 2015.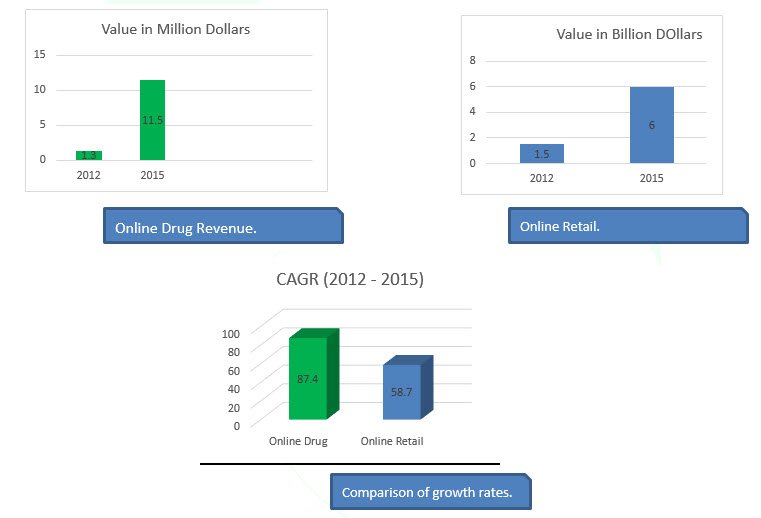 In Retail, the online market share is expected to grow six times from 1% to 6 % in next 5 years. Online drugs being at even more nascent stage is expected to grow at even higher rate.
What Can Stop It
Digital supply chain has the capability to ensure access of anything and everything to anyone in very less time. Indian logistics landscape has always been a chaser to the expectations of today's new generation demanding and aware citizens.
 Following has been major issues daunting the home-grown logistics companies.

Lack of End to End Service providers
Unlike the developed markets which boasts of unified service providers catering all the need of online companies under one umbrella, Indian digital companies have to rely on multiple partners to ensure fulfilment. Multiple partners leads to exchange of more hands and data traversing through various systems which reduces the overall visibility and adds cost. It also causes reliance on more than one partner which increases the chances of delay.
Poor Service Quality. Frequent Delays
Insufficient infrastructure and network planning has led to high lead time in Indian e commerce ecosystem. Same day and next day deliveries are yet privileges which are rare and cost ineffective.  This is a major challenge when deliveries of essential items like medicines is concerned, where the relevance of fulfilment is closely ******* with speed of delivery. To make the whole customer experience good, it is very important for these companies to ensure quick and consistent services.
Lack of Supply Chain Visibility
Lack of visibility is essentially a by-product of having multiple Service providers. In today's market scenario when the customer is spoilt by choice and margins are very thin, it is important for both supplier and receiver to have end to end visibility of the product with tracking at each stage and correct estimate of delivery schedule. Technology is another area which is to play a very important role in ensuring a complete customer experience when visibility is concerned.
Customized Solutions not available
 Innovation will be need of hour as the online world will move forward from the conventional products and foray into newer categories. Perishable and fragile items would require tailor made solutions right from storage, packaging, transportation to delivery.
There will be need to develop infrastructure around these requirements to ensure that the fulfilment meets the required standards and minimizes losses.
This has led to a shift in essential product segment from marketplace model to inventory led model. Also this has to be ensured that the fulfilment centers offer the items to be stored in controlled environment, stocking the SKUs as per the prescribed condition. Fulfilment centers should also have packaging facilities for fragile and perishable items.
Online Drugs Supply Chain – What it takes

Medicines have to be stored as per the manufacturer recommendation. Storage at hot temperatures or in moist conditions could affect the drug quality and can pose threat to patient's health.
The process has to be redesigned to suit the requirements of online pharmacy. Quality checks should be in place to discard any expired or damaged medicine and also ensure that packaging is done as per the requirement of product.
There should be a robust warehouse management system in place which can give a clear visibility of inventory stocks and fulfilment trends to the online pharmacies.
Last Mile Regulatory Challenges
Last mile poses a different set of challenges and needs special handling and regulatory compliances. Online pharmacies have been often criticized for having inefficient handling of prescribed drugs. Below factors have to be ensured in the last leg of supply chain-
Prescription has to be checked and stamped to avoid reuse of same prescription.
Children less than 18 years shouldn't be handed over the medicines.
To ensure confidentiality of patient, it is important to deliver drug to the consignee only.
Other Regulatory Challenges
Below are some other regulatory challenges which the industry has to overcome to ensure a sustainable business model:
Lack of well-defined law for online pharmacies. Drug and cosmetic act 1940, drug and cosmetic rules 1945, pharmacy act 1948 and Indian medical act 1956 were formed much before advent of e commerce in India.
Indian pharmacy act 1948 states that no person other than registered pharmacist shall compound, prepare, mix, or dispense any medicine on the prescription of a medical practitioner. In case of online retail, It would not be possible to ensure dispensing of medicines through a pharmacist
Prescription drugs as well as OTC drugs are to be sold only by licensed retailers. Licensing requirements for online pharmacies is yet not clear.
Conclusion
With increasing internet *********** and customer acceptance, online pharmacy is poised to grow and become the new norm in next five years. There is need of well-defined regulation from government for regulating this segment and accreditation of online pharmacies to ensure that the interest of end consumer is protected.
Companies which can handle the complexities and adapt as per the requirements of this segment will emerge as market leaders.
About Holisol Logistics
Holisol is a leading supply chain services organization providing solutions in retail (end to end fulfilment), Auto & Engineering (packaging & supply chain) and Consulting. Holisol works on value proposition of Design-Implement-Manage to offer customers an experience of working like their own extended team, with affordable strategic and operational expertise.
Headquartered in Delhi, Holisol has a workforce of 200 plus supply chain enthusiasts who are continuously building value through leadership, innovation and long term relationship.
For glimpses of the kind of projects we have executed, follow our case studies and for more information mail us at info@holisollogistics.com